The freeze dryer machine we produce and supply is a small food grade freeze dryer machine, suitable for home use freeze drying of fruits, vegetables, food. Freeze drying preserves the original taste, texture, and nutrients of the food, making it an ideal method of preserving healthy, nutritious food for future use.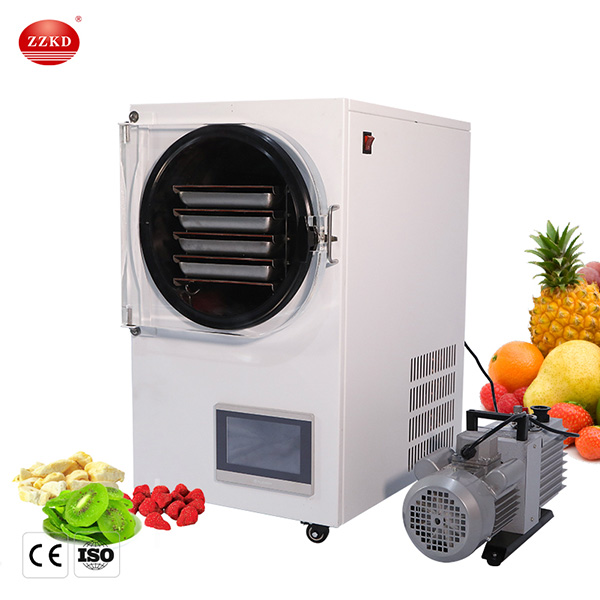 Benefits of using a food freeze dryer
Preservation of taste and texture: One of the main advantages of using a food freeze dryer is that it preserves the original taste and texture of the food.
Nutrient retention: Because the food is freeze-dried at a low temperature, it retains most of its original nutrients, including vitamins and minerals.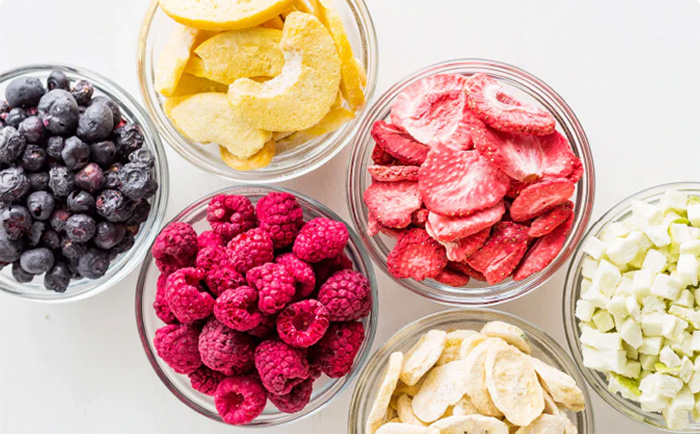 Cost-effectiveness: While a food freeze dryer may have a higher initial cost than other preservation methods, it can save money in the long run by preserving food that might otherwise go to waste.
Versatility: A food freeze dryer can be used to preserve a wide range of foods, including fruits and vegetables, meats, dairy products, and even complete meals.
Environmental sustainability: The food freeze dryer has a significant impact on food waste reduction.
What foods can be freeze-dried by food freeze dryer
Fruits: Apples, bananas, berries, mangoes, pineapples, and many other fruits can be freeze-dried to preserve their texture, taste, and nutrients. Freeze-dried fruits are commonly used in cereals, trail mixes, and as a healthy snack.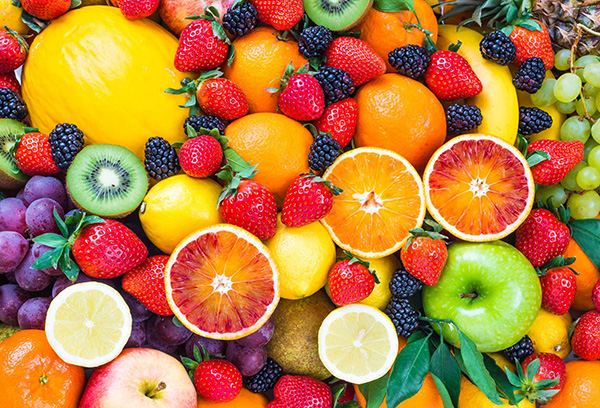 Vegetables: Vegetables such as carrots, peas, corn, beans, and mushrooms can be freeze-dried to extend their shelf life while retaining their nutritional value. Freeze-dried vegetables can be used in soups, stews, and as a healthy side dish.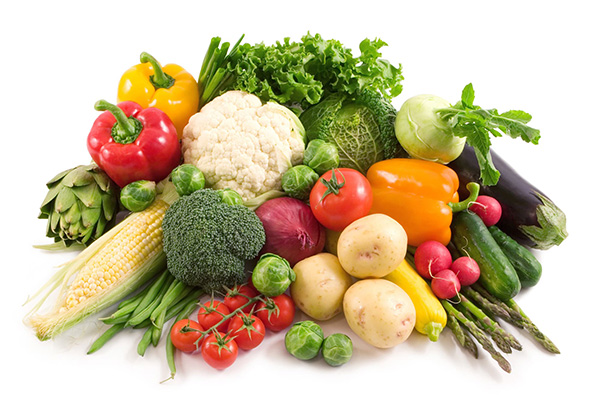 Meats: Meats such as chicken, beef, pork, and even seafood can be freeze-dried. Freeze-drying meat helps to preserve its flavor and texture, making it an ideal food source for hikers and campers.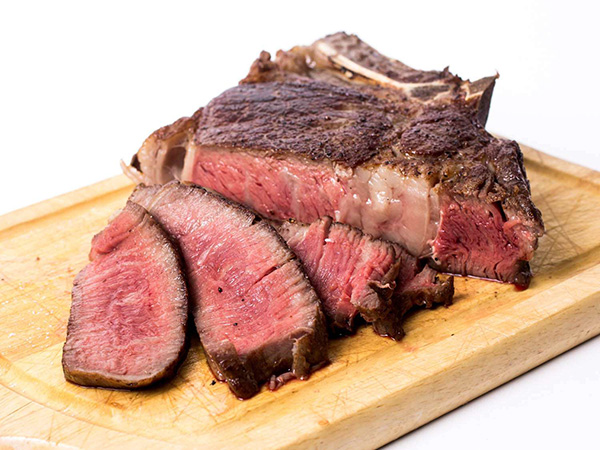 Dairy products: Dairy products such as cheese, milk, and yogurt can also be freeze-dried. Freeze-dried dairy products are commonly used in baking and cooking as well as for long-term storage.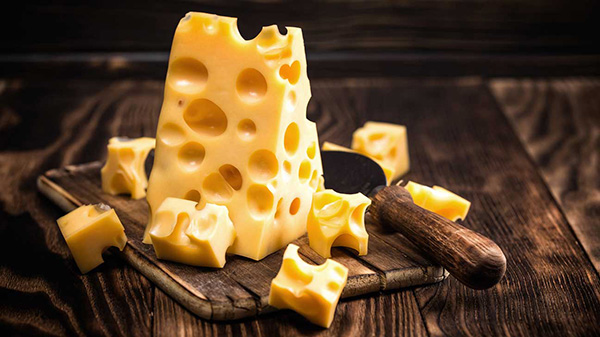 Complete meals: These meals typically include a combination of freeze-dried fruits, vegetables, meats, and grains, and can be rehydrated quickly for a convenient, healthy meal option.
Home use freeze dryer machine features
1. Imported fully enclosed refrigeration unit is adopted, with low temperature and strong water capture capacity. Air cooling is adopted for heat dissipation, no water cooling is required;
2. The vacuum connection adopts international standard parts, which is easy to disassemble and install, and has reliable sealing performance;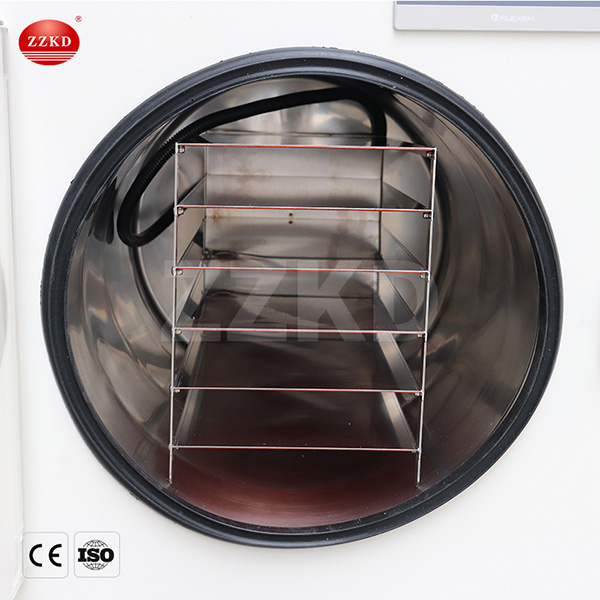 3. The temperature of the cold trap and the vacuum degree of the sample are displayed by LED digital display, which is concise and clear;
4. The specially designed touch soft keys can quickly and accurately realize various function settings, and the operation is simple and convenient;
5. Transparent bell-type drying chamber, natural heating, safe and intuitive;
6. Specially designed stainless steel sample rack, the distance between ordinary sample trays can be adjusted, and the number of layers can be set freely;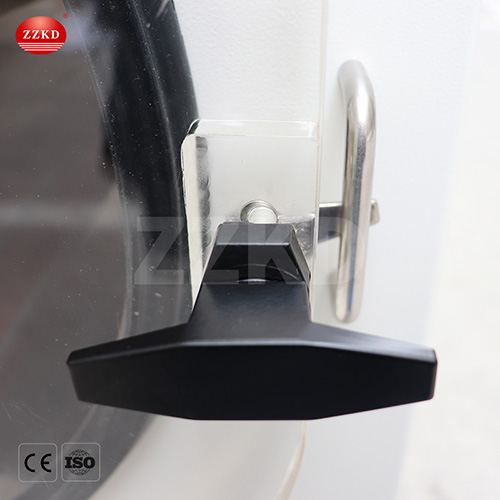 7. Stainless steel cold traps and countertops are clean, hygienic, beautiful and corrosion-resistant.
Warehouse in USA | Canada | Spain | Thailand
We have warehouses in the United States (Los Angeles), Canada (Vancouver), Spain (Valencia), Thailand (Bangkok), and we have large stocks,guarantee that you can receive the goods at the fastest speed in your own country.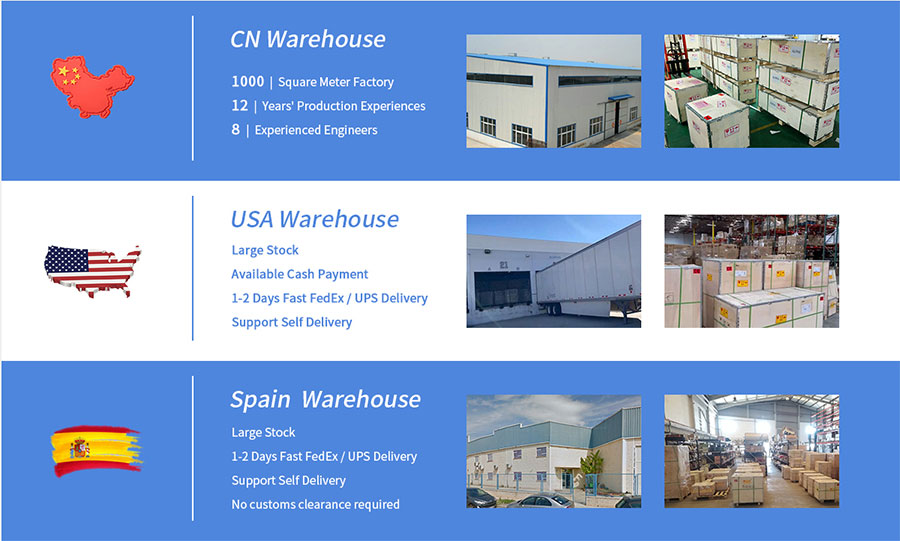 Why choose us?
1)Freeze dryers now in stock with fast delivery.
2) With 13 years of experience in R&D and production of freeze dryer.
3) provide you with premium quality products and perfect after-sales service.
4) Premium quality with CE certification.
5) Factory direct sales with competitive price.
6) Provide one-stop Extraction Turnkey Solution.

Parameter
Model

Drying area(m2)

Tray size(mm)

Shelf size(mm)

Voltage(V)

Machine size(mm)

FD-03H

0.3

205*385

385*205

220-240V 50-60Hz

450*610*

760

FD-06H

0.56

220*510

/

220-240V 50-60Hz

620*694*

1098

FD-10H

1.18

295*800

/

220-240V 50-60Hz

660*990*

1470

FD-50H

5

/

412*1400

380-440V 50-60Hz

886*1804*1539

FD-100H

/

/

508*2400

380-440V 50-60Hz

/
| | | | |
| --- | --- | --- | --- |
| Model | Drying area(m2) | Tray size(mm) | Shelf size(mm) |
| FD-03H | 0.3 | 205*385 | 385*205 |
| FD-06H | 0.56 | 220*510 | / |
| FD-10H | 1.18 | 295*800 | / |
| FD-50H | 5 | / | 412*1400 |
| FD-100H | / | / | 508*2400 |