The freeze dryer machine we produce and supply is a small food grade freeze dryer machine, suitable for home use freeze drying of fruits, vegetables, etc. It is not recommended to freeze dry medicines. The machine is made of 304 stainless steel and has a rubber sealing ring.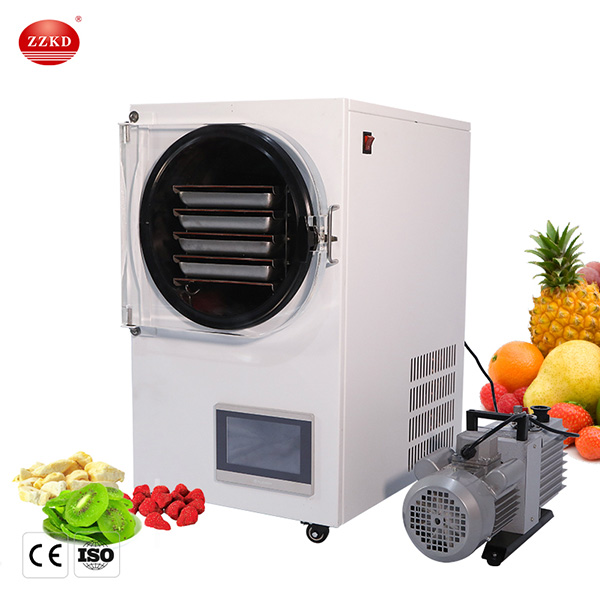 How a food freeze dryer machine works
Food freeze dryer is a kind of freezing and crystallization of food raw materials under low temperature conditions, and then in a high vacuum environment, using the principle of sublimation, the water in the frozen food raw materials is directly sublimated from solid ice without melting the ice. It is a drying equipment for the steam to be removed, so as to achieve freeze-drying.
Model and composition of food freeze dryer machine
We currently have seven models for home use freeze dryers: FD-01, FD-03, FD-04, FD-06, FD-10, FD-50, FD-100.
Freeze dryer machien for home use, also known as vegetable freeze dryer or fruit freeze dryer, is composed of drying box, refrigeration system vacuum system, media heat exchange circulation system, automatic control system, pneumatic system, in-place cleaning, disinfection system.
Drying box: The drying box is a vacuum-tight low-pressure container made of stainless steel, which can withstand positive and negative pressures and meets the requirements of steam sterilization. Silicone rubber seals use high and low heat, and the thermal layer uses closed insulation.
Box: A rectangular box with a drainage outlet at the bottom and an observation window on the side. The box is also equipped with a pressure gauge, a temperature measuring resistance, a vent valve, a seepage valve, a safety valve, and a spray inlet connector.
Shelf: It adopts special hollow plywood, which has high strength and good sealing performance. The rack assembly is attached to the lyophilization box using brackets. A board layer should be set as a heat radiation compensation plate on the uppermost layer to ensure that the food space in the box is in the same temperature environment. In addition, the two sides and back of the shelf are set rails to prevent food pans or food from coming off the shelves.
Box door: adopts cylinder automatic locking device. Ensure the required vacuum level during the decompression process inside the box. An oil mist trap is installed at the exhaust port of the vacuum pump to prevent the smoke in the exhaust gas from polluting the indoor environment. To prevent water vapor from entering the pump, the system is inserted into a gas pump that opens during drying.
Media heat exchange circulation system: The heat is transferred to the shelf and then to the food by driving the circulation pump. The switching between cooling and heating of the freeze dryer is completed by controlling the electromagnetic valve switch of the cold source and the heat source. The system includes heat medium heating tank plate heat exchanger, pneumatic control valve, cooling water solenoid valve, circulating pump, pipeline, solenoid valve, temperature sensor, etc.
Automatic control system: it has the functions of freeze-drying curve setting, vacuum pump test and control, media temperature, food temperature and water trap temperature control, drying state detection, circuit removal, area cleaning and disinfection, automatic protection and alarms.
Pneumatic system: control of pneumatic valves.
Cleaning and disinfection systems in place: for cleaning and steam disinfection of dry box water traps.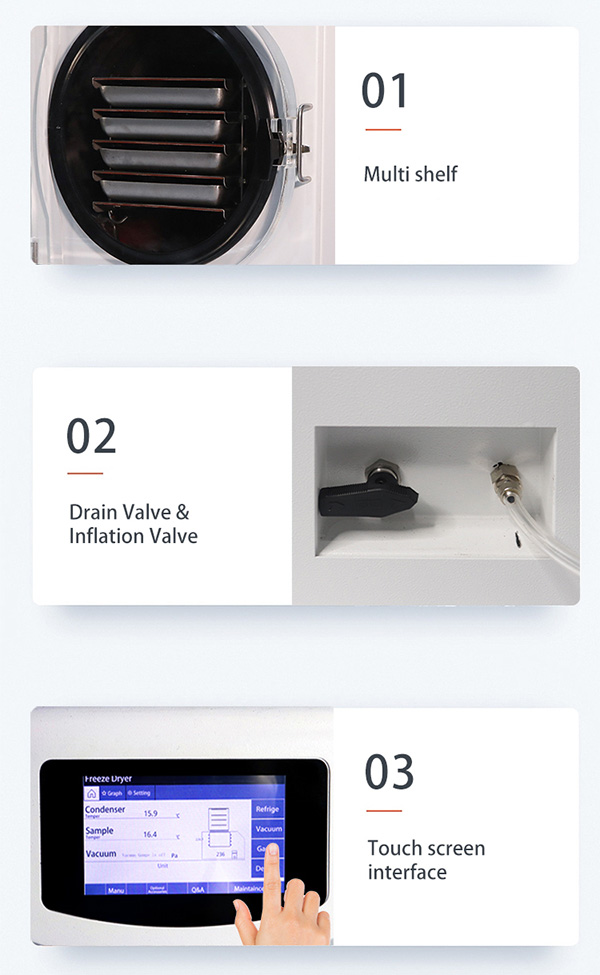 Home use freeze dryer machine features
1. Imported fully enclosed refrigeration unit is adopted, with low temperature and strong water capture capacity. Air cooling is adopted for heat dissipation, no water cooling is required;
2. The vacuum connection adopts international standard parts, which is easy to disassemble and install, and has reliable sealing performance;
3. The temperature of the cold trap and the vacuum degree of the sample are displayed by LED digital display, which is concise and clear;
4. The specially designed touch soft keys can quickly and accurately realize various function settings, and the operation is simple and convenient;
5. Transparent bell-type drying chamber, natural heating, safe and intuitive
6. Specially designed stainless steel sample rack, the distance between ordinary sample trays can be adjusted, and the number of layers can be set freely;
7. Stainless steel cold traps and countertops are clean, hygienic, beautiful and corrosion-resistant.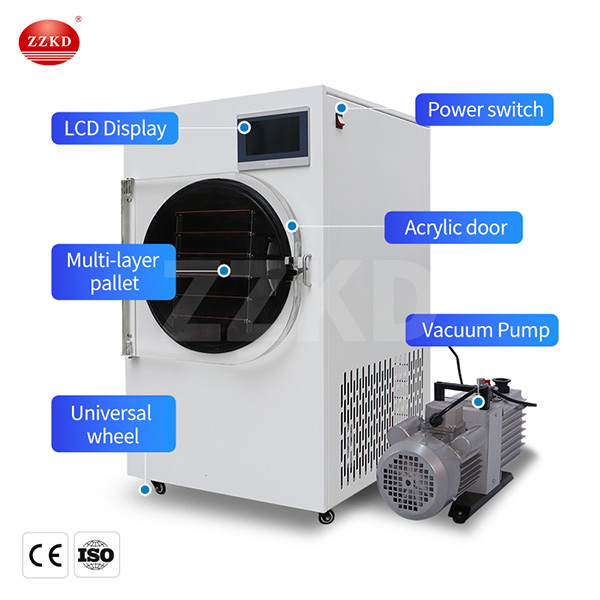 Operation steps of home use food freeze dryer
1. Before freeze-drying fruits and vegetables, pack the fruits and vegetables that need to be freeze-dried in suitable containers, usually glass mold bottles and glass tube bottles. The amount should be even, and the fruits and vegetables should be cut as large and thin as possible ;
2. Put it into a metal tray suitable for the size of the freeze-drying box.
3. Before packing, first cool the freeze-drying box in an empty box, and then put the product into the freeze-drying box for pre-freezing; or put the product on the inner layer of the freeze-drying box for pre-freezing at the same time;
4. Before vacuuming, make the cold trap work in advance according to the cooling speed of the cold trap refrigerator. When vacuuming, the temperature of the cold trap should reach at least -40℃;
5. After the vacuum degree reaches a certain value, the products in the box can be heated. Basically, there are two heating components. The first step is heating so that the temperature of the product does not exceed the eutectic point or the temperature of the eutectic point; the second step of heating is performed after the moisture in the product is basically dried, and the product can be quickly heated. Rise to the specified maximum allowable temperature. Freeze-drying can be completed after the maximum allowable temperature is maintained for more than 2 hours.
6. After freeze-drying, fill it with dry and sterile air into the drying box, and then seal it as soon as possible to prevent re-absorption of moisture in the air.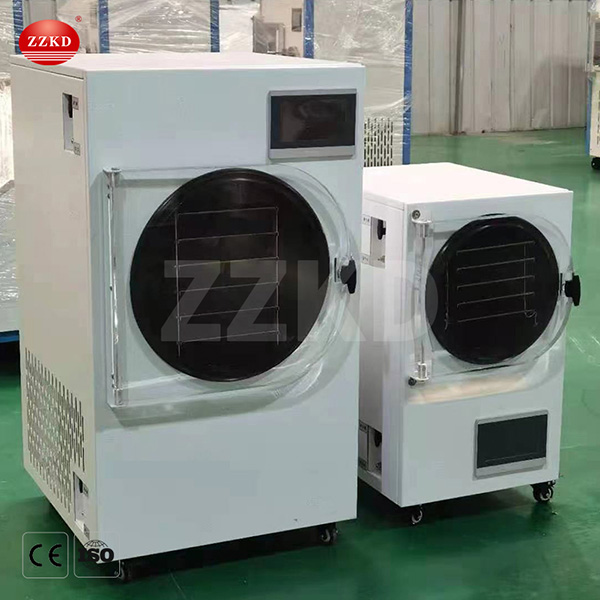 Application of food freeze dryer machine

At present, food freeze dryer machine have long been suitable for freeze drying of fruits and vegetables at home. Using freeze dryers at home can dry the following items:
1. Fruits and vegetables: apples, bananas, durians, strawberries, persimmons, lychees, longan, peach, lemon, cantaloupe, jackfruit, etc.;
2. Vegetables: onions, taro, mushrooms, shiitake mushrooms, toon, day lily, asparagus, celery, green beans, snow peas, peas, carrots, tomatoes, cauliflower, cabbage, spinach, onions, peppers, coriander, corn, etc.;
3. Dried vegetables made by freeze-drying applications in deep processing of vegetables can retain the original color, taste, aroma and shape of vegetables to a large extent, and can well preserve the original nutrients such as proteins and vitamins in vegetables.
3. Seafood and aquatic products: fish, shrimp, sea cucumber, shellfish, jellyfish, etc.;
4. Aquatic products are important foreign exchange earning products in my country's coastal production areas. Traditional processing techniques such as pickling, drying, and freezing aquatic products cannot fully retain their nutritional value, and are more inconvenient to transport and carry. Developing countries have long agreed to use freezer for fish and shellfish.
5. Freeze-dried meat and pet food: pork, beef, snake meat, lamb, chicken, rabbit, ham, etc.;
6. With pet owners' understanding of the benefits of freeze-dried food, freeze-dried pet food is gradually becoming popular. Commonly there are freeze-dried chicken breast, freeze-dried quail, freeze-dried duck, freeze-dried beef, freeze-dried salmon, etc. Freeze-dried treats for pets.
7. Chinese medicinal materials and health care products: ginseng, velvet antler, cordyceps sinensis, gastrodia elata, angelica, panax notoginseng, bird's nest, first Wu, Chinese yam, royal jelly, honey, pollen, turtle powder, soft-shelled turtle, etc.;
Others: Meals and soups that cannot be eaten at ordinary times can be lyophilized and eaten after rehydration, especially when going out for camping and mountaineering travel, it is more convenient to eat fresh freeze-dried instant dishes.
Warehouse in USA | Canada | Spain | Thailand
We have warehouses in the United States (Los Angeles), Canada (Vancouver), Spain (Valencia), Thailand (Bangkok), and we have large stocks,guarantee that you can receive the goods at the fastest speed in your own country.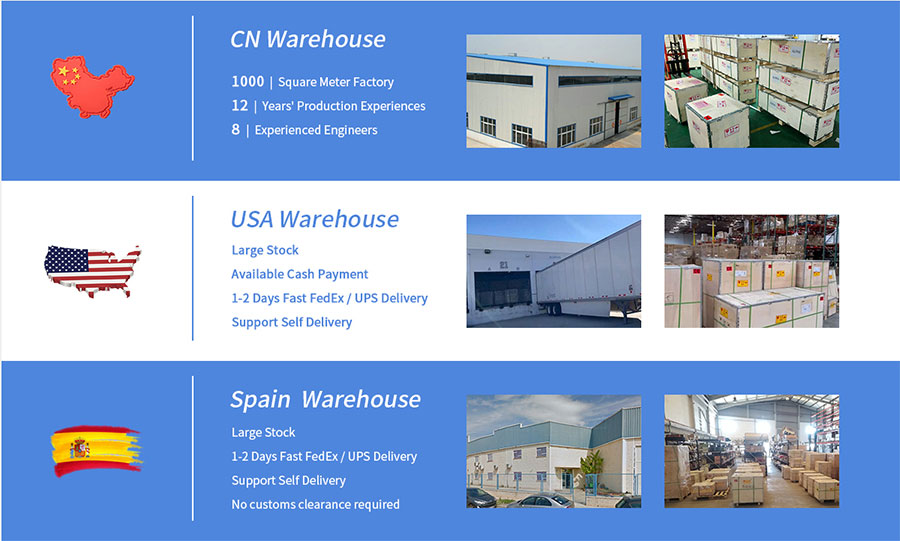 Why choose us?
1)Freeze dryers now in stock with fast delivery.
2) With 13 years of experience in R&D and production of freeze dryers.
3) provide you with premium quality products and perfect after-sales service.
4) Premium quality with CE certification.
5) Factory direct sales with competitive price.
6) Provide one-stop Extraction Turnkey Solution.

Parameter
Model

Drying area(m2)

Tray size(mm)

Shelf size(mm)

Voltage(V)

Machine size(mm)

FD-03H

0.3

205*385

385*205

220-240V 50-60Hz

450*610*

760

FD-06H

0.56

220*510

/

220-240V 50-60Hz

620*694*

1098

FD-10H

1.18

295*800

/

220-240V 50-60Hz

660*990*

1470

FD-50H

5

/

412*1400

380-440V 50-60Hz

886*1804*1539

FD-100H

/

/

508*2400

380-440V 50-60Hz

/
| | | | |
| --- | --- | --- | --- |
| Model | Drying area(m2) | Tray size(mm) | Shelf size(mm) |
| FD-03H | 0.3 | 205*385 | 385*205 |
| FD-06H | 0.56 | 220*510 | / |
| FD-10H | 1.18 | 295*800 | / |
| FD-50H | 5 | / | 412*1400 |
| FD-100H | / | / | 508*2400 |