Glass reactor introduction:
Glass reactors are commonly used biochemical instruments and are widely used in modern fine chemicals, biopharmaceuticals, scientific research experiments and other industries. It can be used for various concentration, distillation, retention, separation, The purification reaction is an ideal equipment for teaching and production. Our glass reactors are divided into two categories: single layer glass reactor and double jacketed glass reactor.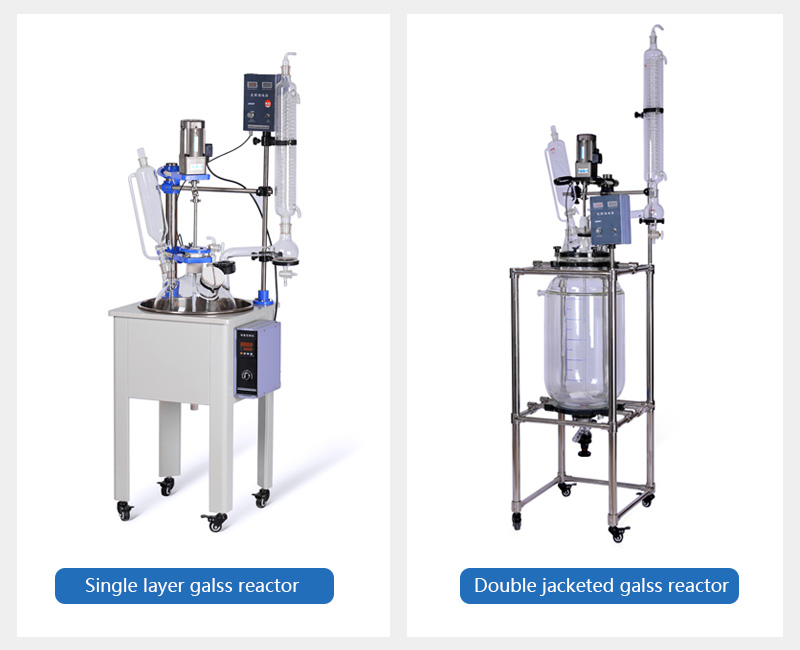 Single Layer Galss Reactor

The single layer glass reactor is designed for single layer glass, and the reaction solvent can be put into the kettle for stirring reaction, and the solvent in the kettle can be heated by water, oil bath and electric heating mantle.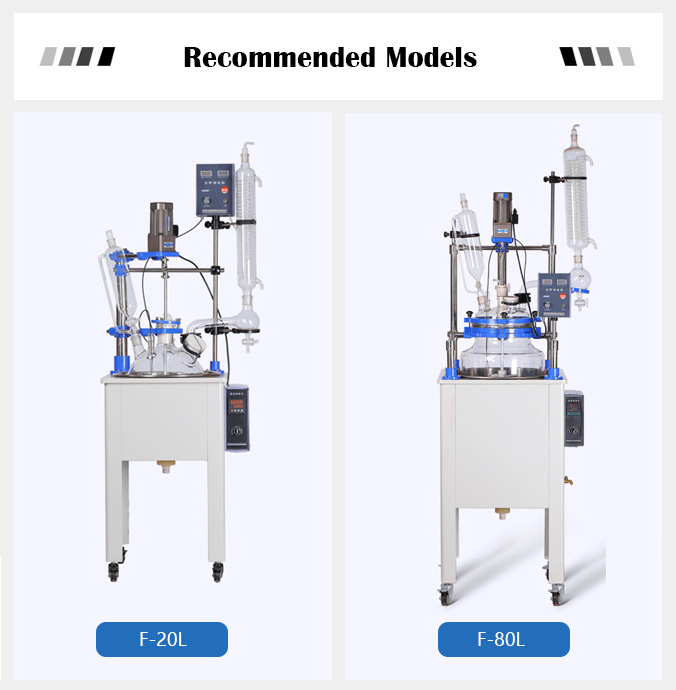 Double Jacketed Glass Reactor

The double jacketed glass reactor is designed with double layer glass. The inner layer can be put into the reaction solvent for stirring and mixing reaction. The interlayer can be connected with different cold and heat sources (refrigerated liquid, hot water or hot oil) for cyclic heating or cooling reaction.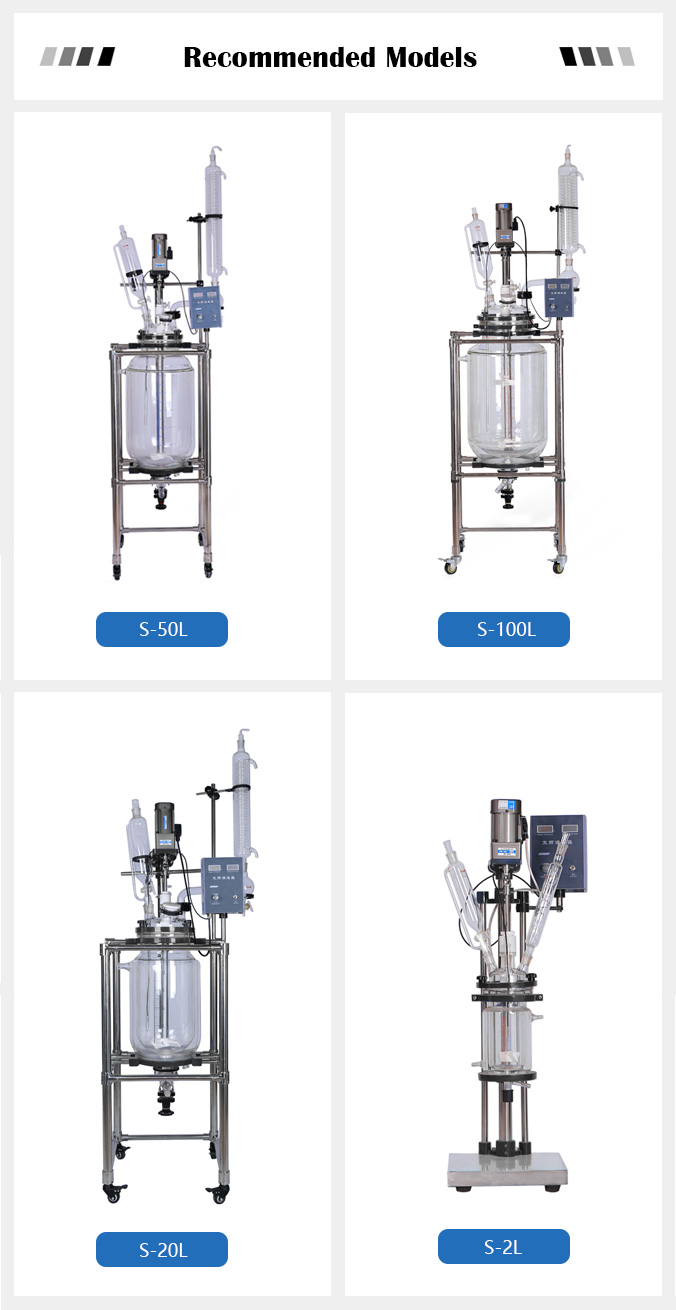 Show you how does jacketed glass reactor running
Application

Under the condition of set constant temperature, in the airtight glass reactor, the stirring reaction can be carried out under the condition of normal pressure or negative pressure according to the use requirements, and the reflux and distillation of the reaction solution can be carried out.
It is an ideal pilot test and production equipment for factories, biopharmaceuticals and new material synthesis;
Features of Our Glass Reactors
Corrosion Resistance: Glass reactors are made from high-quality borosilicate glass, which is highly resistant to chemical corrosion. This means that the glass reactor can withstand exposure to harsh chemicals, such as acids and bases, without corroding or degrading over time.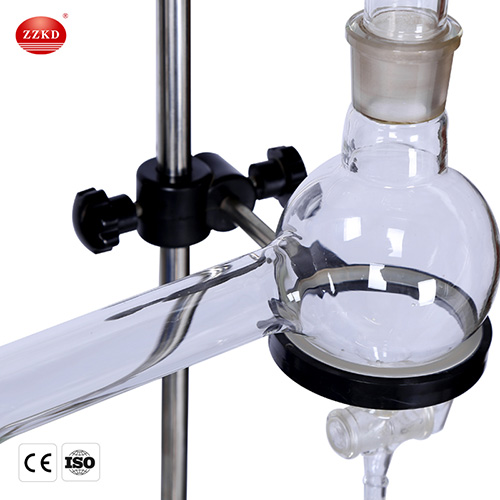 Transparent: One of the most significant advantages of glass reactors is their transparency. The clear glass walls of the reactor allow for easy observation of the reaction taking place inside. This is particularly useful in reactions where color changes or precipitate formation are indicators of reaction progress.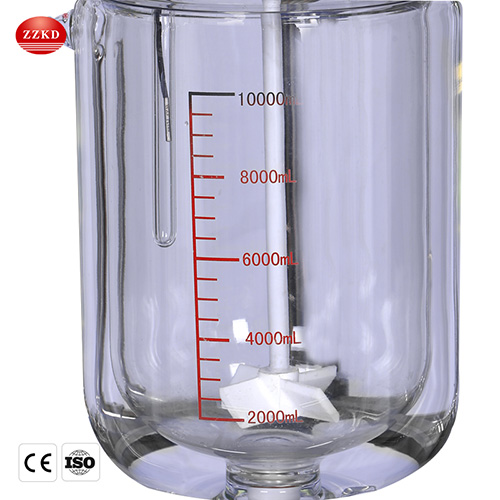 High Temperature Resistance: Borosilicate glass is known for its high-temperature resistance, making it an ideal material for reactors that operate at high temperatures. Glass reactors can handle temperatures ranging from -80°C to 250°C, depending on the specific model.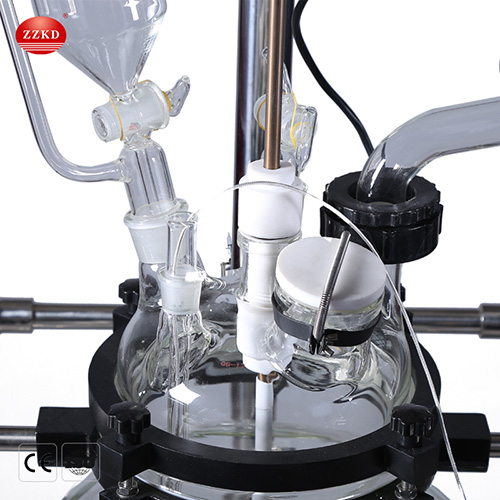 Precise Temperature Control: Glass reactors are equipped with a jacketed design that allows for precise temperature control during the reaction. The jacket allows for heating or cooling fluid to circulate around the reactor vessel, maintaining a constant temperature inside the reactor. This is essential for achieving consistent results in chemical reactions.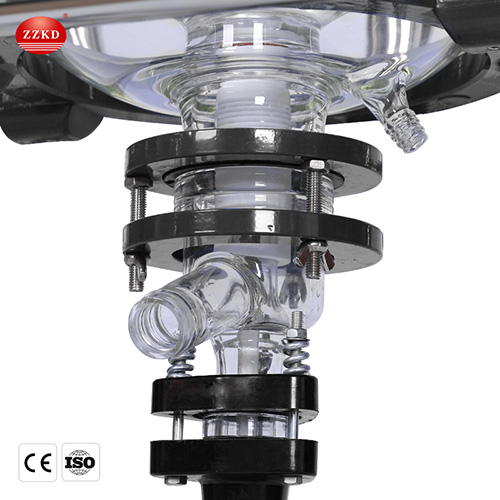 Efficient Mixing: The stirrer in glass reactors provides efficient mixing of the reactants, promoting better contact between the reactants and accelerating the reaction. This leads to faster reaction times and better yields.
Frequency conversion motor: stable operation, large torque, automatic boosting, no spark, no noise, long service life.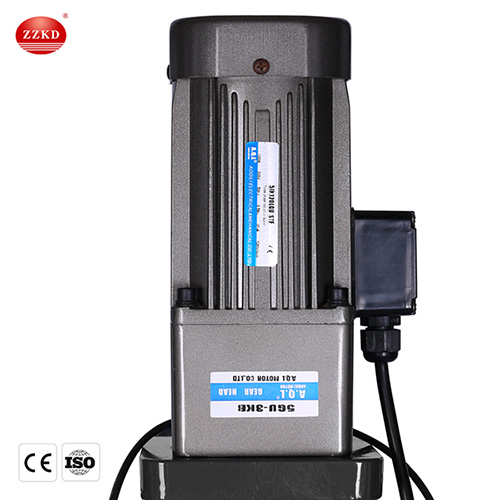 Easy Maintenance: Glass reactors are easy to clean and maintain, as the smooth, non-reactive surface of the glass does not allow contaminants to stick to the walls of the reactor. This also means that the reactor can be used for multiple experiments with minimal risk of cross-contamination.
Grouped equipment for jacketed glass reactor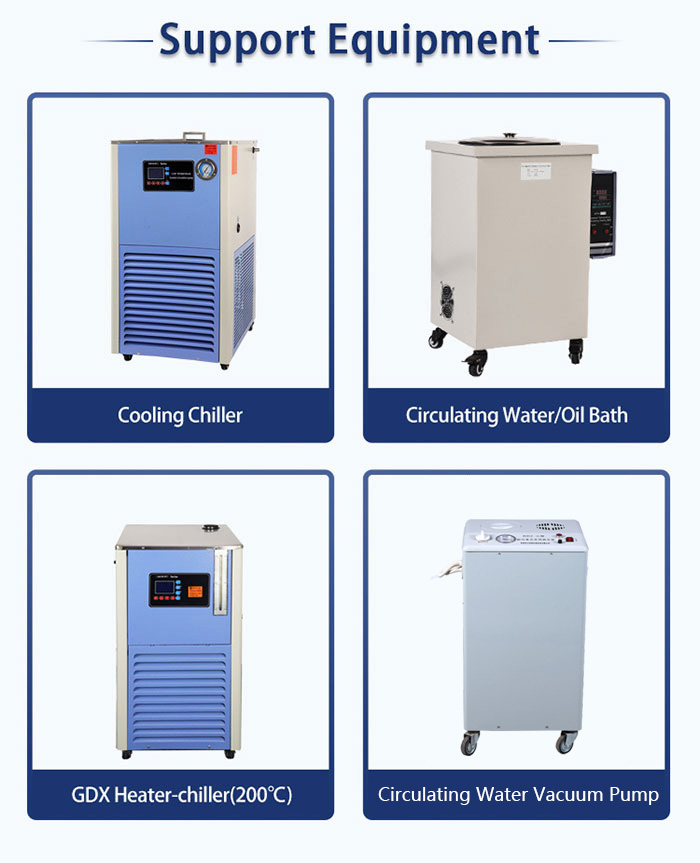 Grouped equipment for single layer glass reactor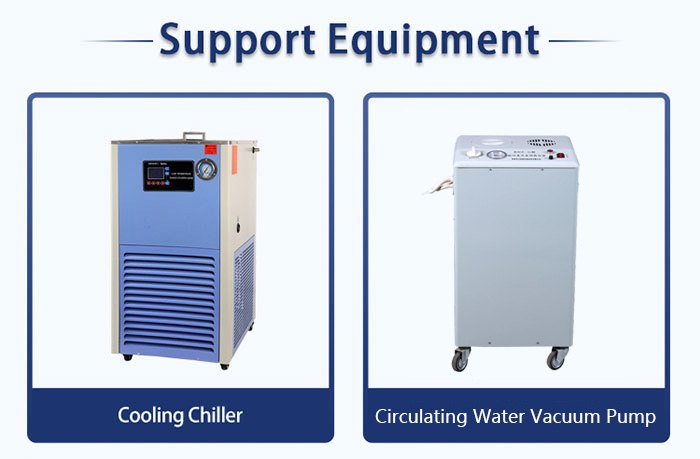 Warehouse in USA | Canada | Spain | Thailand
We have warehouses in the United States (Los Angeles), Canada (Vancouver), Spain (Valencia), Thailand (Bangkok), and have a large inventory,no matter which country you are in, you are guaranteed to receive the goods as quickly as possible.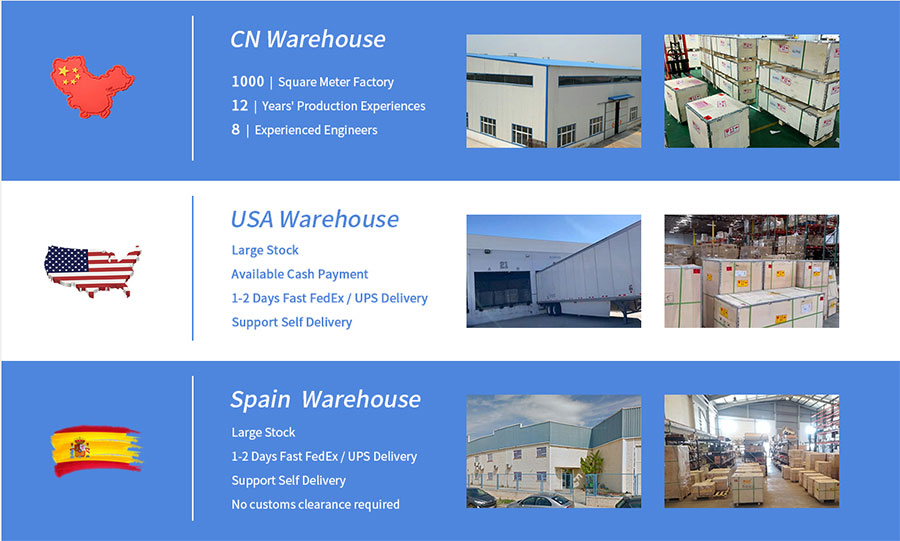 Why Choose us?
1)Glass reactors now in stock with fast delivery.
2) 2L to 100L for Choice.
3) With 13 years of experience in R&D and production of glass reactors.
4) provide you with premium quality products and perfect after-sales service.
5) Premium quality with CE certification.
6) Factory direct sales with competitive price.
7) Provide one-stop Extraction Turnkey Solution.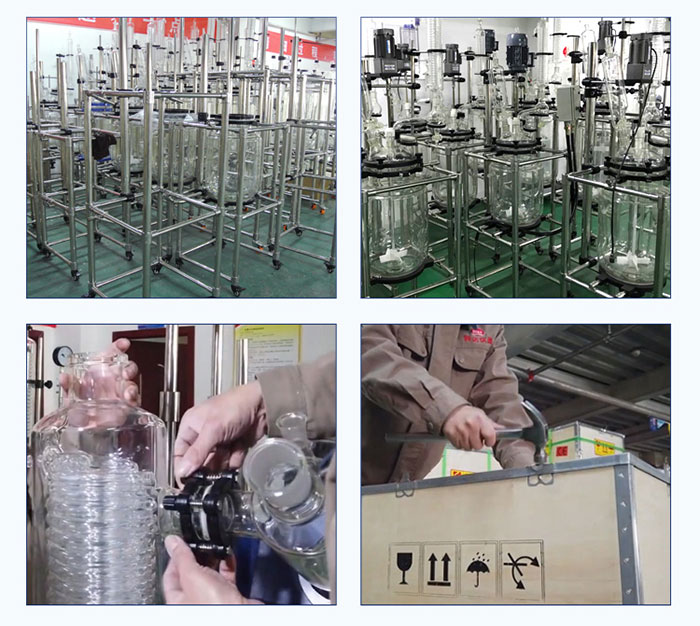 Parameter
Single layer glass reactor
| | | | | | | |
| --- | --- | --- | --- | --- | --- | --- |
| Model | Stirring Power(W) | Stirring Speed(rmp) | Heating Power(kW) | Capacity(L) | Temperature Using Range(℃) | Motor Torque(g/cm) |
| F-1L | 60 | 0~1000 | 0.5 | 1 | RT-250/RT-350 | 2000 |
| F-2L | 60 | 0~1000 | 0.8 | 2 | RT-250/RT-350 | 2400 |
| F-3L | 60 | 0~1000 | 1.2 | 3 | RT-250/RT-350 | 2400 |
| F-5L | 60 | 0~1000 | 1.5 | 5 | RT-250/RT-350 | 4800 |
| F-10L | 120 | 60~600 | 3 | 10 | RT-250/RT-350 | 1000 |
| F-20L | 120 | 60~600 | 4.5 | 20 | RT-250/RT-350 | 1200 |
| F-30L | 120 | 60~600 | 6 | 30 | RT-250/RT-350 | 1200 |
| F-50L | 120 | 60~600 | 7 | 50 | RT-250/RT-350 | 1500 |
| F-100L | 180 | 60~600 | 9 | 100 | RT-250/RT-350 | 3000 |
Jacketed glass reactor
| | | | | | | |
| --- | --- | --- | --- | --- | --- | --- |
| Model | Power(W ) | Stirring Speed(rmp) | Diameter | Capacity(L) | Power Supply | Motor Torque(g/cm) |
| S-1L | 60 | 0~600(Max.1300) | 12 | 1 | 220V 50/60 Hz | 2000 |
| S-2L | 60 | 0~600(Max.1300) | 12 | 2 | 220V 50/60 Hz | 2400 |
| S-3L | 60 | 0~600(Max.1300) | 12 | 3 | 220V 50/60 Hz | 2400 |
| S-5L | 60 | 0~600(Max.1300) | 12 | 5 | 220V 50/60 Hz | 4800 |
| S-10L | 120 | 0~600(Max.1300) | 12 | 10 | 220V 50/60 Hz | 1000 |
| S-20L | 120 | 0~600(Max.1300) | 12 | 20 | 220V 50/60 Hz | 1200 |
| S-30L | 120 | 0~600(Max.1300) | 12 | 30 | 220V 50/60 Hz | 1200 |
| S-50L | 120 | 0~600(Max.1300) | 12 | 50 | 220V 50/60 Hz | 1500 |
| S-100L | 250 | 0~600(Max.1300) | 15 | 100 | 220V 50/60 Hz | 3000 |
Single layer glass reactor
| | | | |
| --- | --- | --- | --- |
| Model | Stirring Power(W) | Stirring Speed(rmp) | Heating Power(kW) |
| F-1L | 60 | 0~1000 | 0.5 |
| F-2L | 60 | 0~1000 | 0.8 |
| F-3L | 60 | 0~1000 | 1.2 |
| F-5L | 60 | 0~1000 | 1.5 |
| F-10L | 120 | 60~600 | 3 |
| F-20L | 120 | 60~600 | 4.5 |
| F-30L | 120 | 60~600 | 6 |
| F-50L | 120 | 60~600 | 7 |
| F-100L | 180 | 60~600 | 9 |
Jacketed glass reactor
| | | | |
| --- | --- | --- | --- |
| Model | Power(W ) | Stirring Speed(rmp) | Diameter |
| S-1L | 60 | 0~600(Max.1300) | 12 |
| S-2L | 60 | 0~600(Max.1300) | 12 |
| S-3L | 60 | 0~600(Max.1300) | 12 |
| S-5L | 60 | 0~600(Max.1300) | 12 |
| S-10L | 120 | 0~600(Max.1300) | 12 |
| S-20L | 120 | 0~600(Max.1300) | 12 |
| S-30L | 120 | 0~600(Max.1300) | 12 |
| S-50L | 120 | 0~600(Max.1300) | 12 |
| S-100L | 250 | 0~600(Max.1300) | 15 |