Lab Vacuum Emulsifying Mixer is a highly specialized piece of equipment that is used in a range of industrial applications, such as the production of pharmaceuticals, cosmetics, food and beverages, and other products that require the emulsification or homogenization of materials. The Emulsifying Mixer is designed to create a stable emulsion by mixing two or more immiscible liquids, such as oil and water, and creating a homogeneous mixture.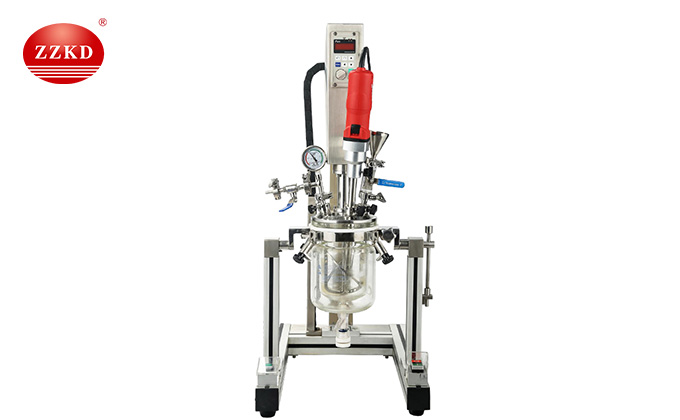 Features of Vacuum Emulsifying Mixer:
1) Double wall glass mixing vessel.
2) Transparent reactor : we can see the whole process of mixing,homegenizing and emulsifying all raw materials.
3) The speed display and the speed control knob are clearer,the value can be read accurately,and the operation is easier.
4) easy to clean and maintain.
5) its ability to handle materials with different viscosities.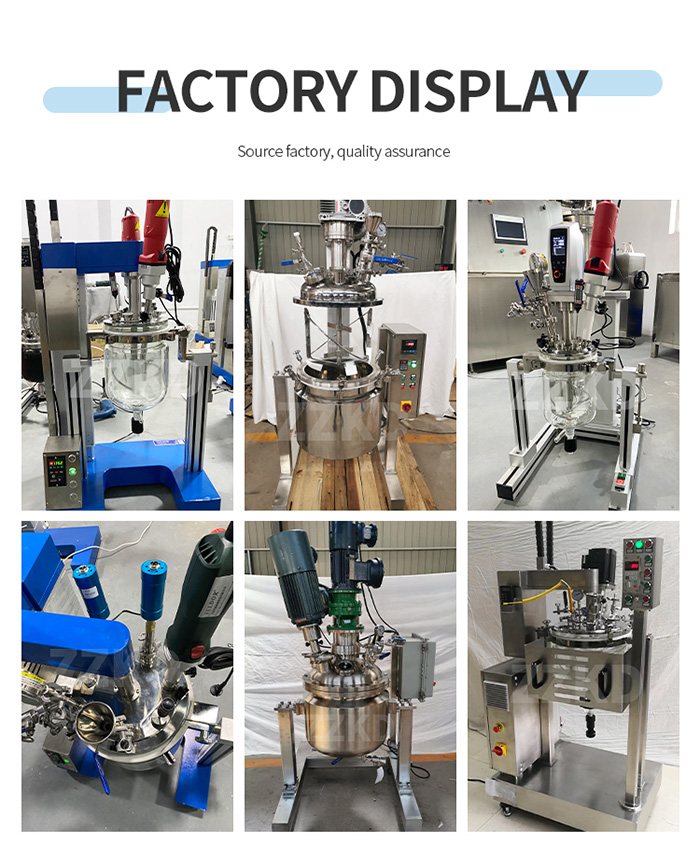 Application of lab emulsifying mixer machine:
* In terms of its applications, the vacuum emulsification mixer is used in a wide range of industries.
* In the pharmaceutical industry, it is used to mix drugs and other materials to create a stable emulsion.
* In the cosmetic industry, it is used to mix oils, water, and other ingredients to create lotions, creams, and other products.
* In the food and beverage industry, it is used to mix ingredients such as emulsifiers, stabilizers, and other additives to create a range of products, such as sauces, dressings, and beverages.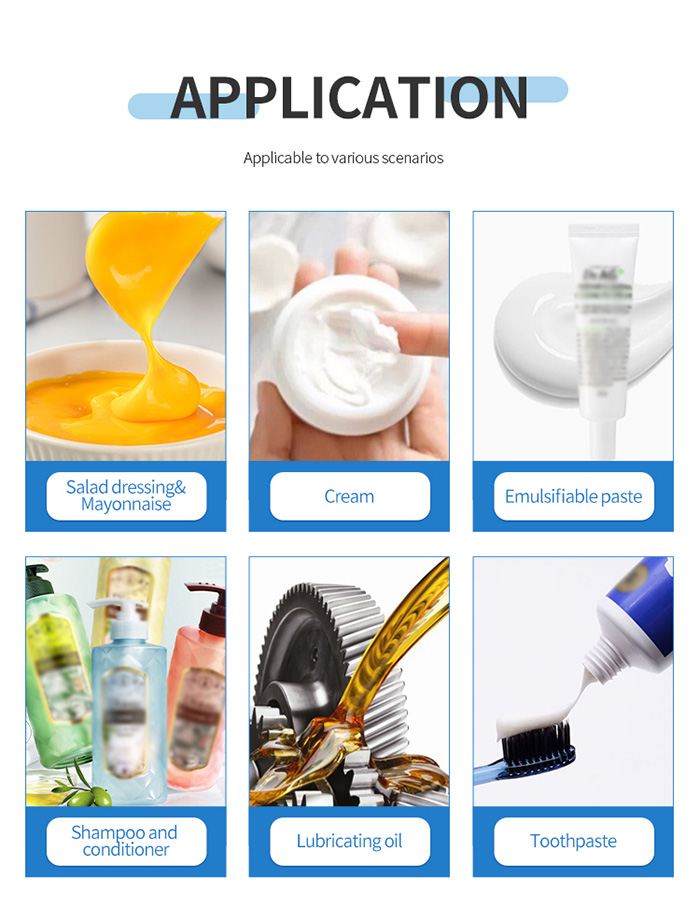 Parameter
| | | | | |
| --- | --- | --- | --- | --- |
| Model | LET-1L | LET-2L | LET-5L | LET-10L |
| Power supply | 220V,50/60Hz | 220V,50/60Hz | 220V,50/60Hz | 220V,50/60Hz |
| Minimum allowable mixing volume | 300ml | 500ml | 1000ml | 2500ml |
| Minimum allowable amount of emulsification | 500ml | 1000ml | 2500ml | 5000ml |
| The maximum allowable amount of emulsification | 1000ml | 2000ml | 5000ml | 10000ml |
| Working temperature | 170℃ | 170℃ | 290℃ | 290℃ |
| Can reach vacuum (Mpa) | -0.097~0.02 | -0.097~0.02 | -0.097~0.02 | -0.097~0.02 |
| Maximum processing viscosity (CP) | 100,000 | 100,000 | 200,000 | 300,000 |
| Stirring motor power | 90W | 120W | 150W | 180W |
| Stirring speed range (rpm) | 0~230 | 0~230 | 0~230 | 0~230 |
| Stirring paddle configuration | Anchor screw with scraping wall impeller | | | |
| Scraper material | Silicone Rubber | | | |
| Homogeneous motor power | 500W | 500W | 800W | 1050W |
| Homogeneous speed range (rpm) | 10000~28000 | 10000~30000 | 10000~30000 | 10000~30000 |
| Homogeneous working head configuration | 20DG | 25DG | 25DG | 30DG |
| Reactor lid opening | Homogenizer port + hopper port + temperature measuring port + vacuum port + 3 spare ports | | | |
| Lifting bracket travel | 210 | 210 | 270 | 270 |
| The main contact material with the material | SS316L, borosilicate glass, FKM10 | | | |
| Vacuum port outer diameter | 10 | 10 | 10 | 10 |
| Inlet and outlet outer diameter of glass kettle jacket | 12 | 12 | 16 | 16 |
| Allowable ambient temperature | 5~40℃ | 5~40℃ | 5~40℃ | 5~40℃ |
| Allowable relative humidity | 80% | 80% | 80% | 80% |
| Dimensions (mm) | 400*390*780 | 400*390*780 | 480*420*850 | 480*420*850 |
| Standard weight (Kg) | 37 | 38 | 45 | 60 |
| | | |
| --- | --- | --- |
| Model | LET-1L | LET-10L |
| Power supply | 220V,50/60Hz | 220V,50/60Hz |
| Minimum allowable mixing volume | 300ml | 2500ml |
| Minimum allowable amount of emulsification | 500ml | 5000ml |
| The maximum allowable amount of emulsification | 1000ml | 10000ml |
| Working temperature | 170℃ | 290℃ |
| Can reach vacuum (Mpa) | -0.097~0.02 | -0.097~0.02 |
| Maximum processing viscosity (CP) | 100,000 | 300,000 |
| Stirring motor power | 90W | 180W |
| Stirring speed range (rpm) | 0~230 | 0~230 |
| Homogeneous motor power | 500W | 1050W |
| Homogeneous speed range (rpm) | 10000~28000 | 10000~30000 |
| Homogeneous working head configuration | 20DG | 30DG |
| Lifting bracket travel | 210 | 270 |
| Vacuum port outer diameter | 10 | 10 |
| Inlet and outlet outer diameter of glass kettle jacket | 12 | 16 |
| Allowable ambient temperature | 5~40℃ | 5~40℃ |
| Allowable relative humidity | 80% | 80% |
| Dimensions (mm) | 400*390*780 | 480*420*850 |
| Standard weight (Kg) | 37 | 60 |