Laboratory microwave chemical reactor Description
Microwave chemical reactor adopts microcomputer technology and unique microwave adjustment technology to realize the continuous adjustment of microwave power. The power meter shows that its operation is simple. The chemical experiment of microwave radiation can fully reflect its scientific nature and practicality.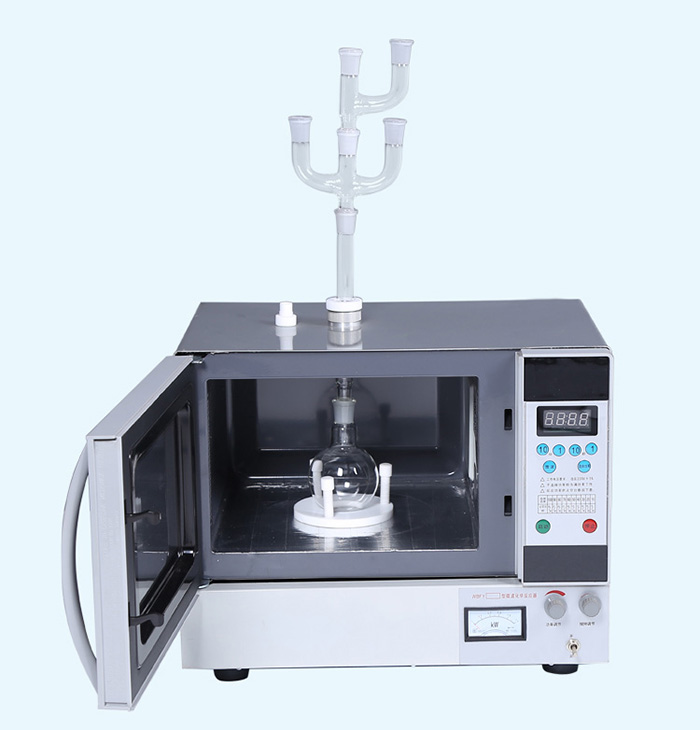 Laboratory microwave chemical reactor Working Principle
The microwave chemical reactor uses the microwave heating principle and uses the microwave as an energy source. When the microwave interacts with the material molecules, the molecular polarization, orientation, friction, collision, and absorption of microwave energy are generated to generate thermal effects.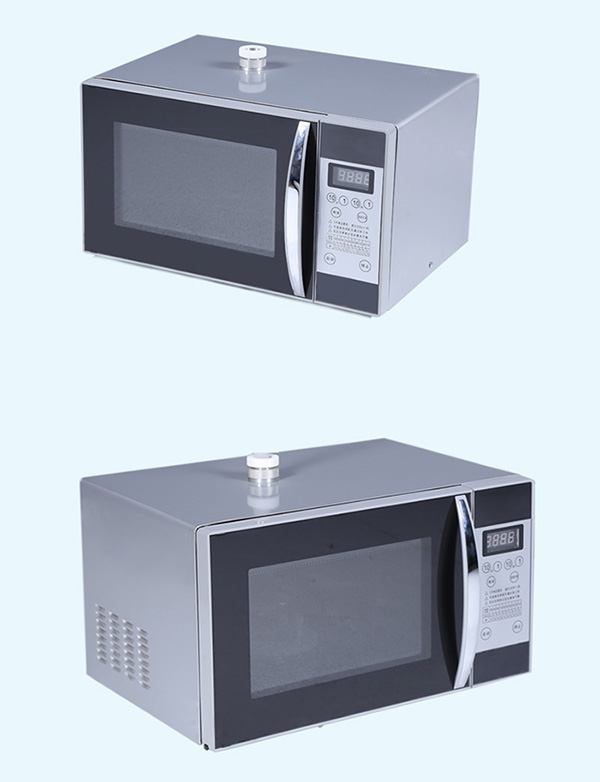 Structure and performance of laboratory microwave chemical reactor
Microwave chemical reactor shell is made of stainless steel with H-shaped glass tube on top and PTFE plate holder in the inner cavity
and glass tray.
Stainless steel inner shell
Anti-magnetic to prevent magnetic materials from entering the cavity and breaking the internal structure, durable.
H-shaped glass tube
High-quality materials, easy to operate.
Control panel
Multi-function control panel, real-time display of sample working status.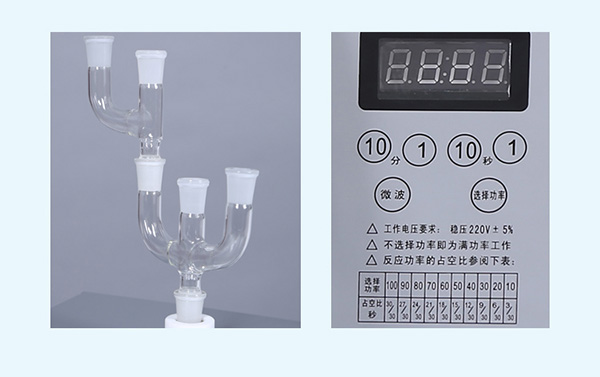 Teflon Plate Holder
Teflon material, height can be adjusted at will.
Laboratory microwave chemical reactor advantages
Non-pulsed microwave continuous heating
Frequency conversion microwave power adjustment, microwave output is continuous output, no pulse stimulation.
Microwave power frequency conversion control
Using dual CPU technology, auxiliary monitoring and control. The self-adaptive PID adjustment technology can overcome the occurrence of overshoot under the conditions of changes in ambient temperature, polarity of reacting substances, changes in heat capacity, and changes in mathematical models. Automatically adjust the power size and the intensity of the reaction to achieve the ideal control effect.
Platinum resistance temperature control system
The shielded platinum resistance is directly inserted into the reactor to measure the internal temperature of the reaction, and the data is accurate. Reliable shielding effectively eliminates any electromagnetic interference and self-heating effects.
Ten-level adjustment of microwave power
The microwave power can be automatically controlled by frequency conversion within the limited power range of each gear, thereby limiting the intensity of the reaction and the speed of the reaction.
Five-step temperature program
Through the control of the microcomputer, the temperature rise process of the reaction can be divided into five stages, and the user can edit various reaction parameters: reaction temperature, reaction time, and high power. And the microwave can also modify the reaction conditions without stopping during work.
Large LCD screen
The LCD screen displays synchronously: real-time working period, set power, set temperature, set time. Real-time power, real-time temperature, real-time time. By turning the page, the temperature curve can be displayed.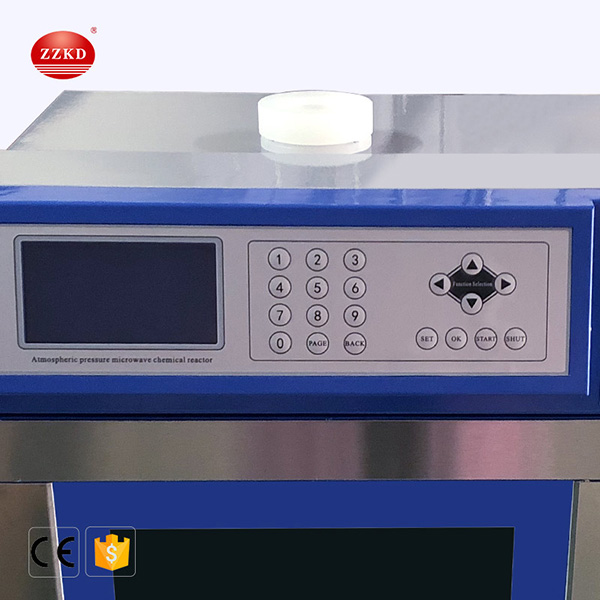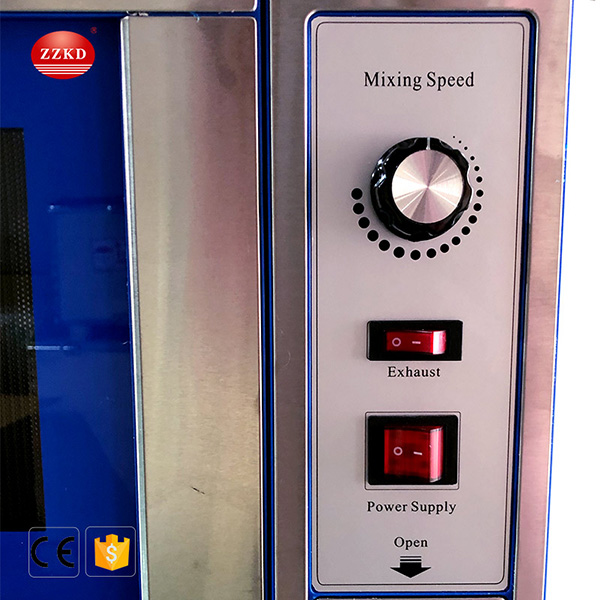 Laboratory microwave chemical reactor Applications
Microwave chemical reactor ensures high quantification and repeatability of reaction boundary conditions, breaking through the free expansion of various functions of low temperature to high temperature, small sample to large sample, normal pressure to high pressure and gas addition reaction, so that the application can be extended to more fields . It has been successfully used in small molecule synthesis, combinatorial chemistry, medicinal chemistry, chemical industry, materials, biology, Chinese medicine extraction, etc., helping chemists to conduct cutting-edge R&D research.
If you want to know the price of the latest microwave chemical reactor, please contact us, ZZKD is a professional reactor equipment manufacturer and supplier, we provide high-quality products and competitive prices.
Warehouse in USA | Canada | Spain | Thailand
We have warehouses in the United States (Los Angeles), Canada (Vancouver), Spain (Valencia), Thailand (Bangkok), and we have large stocks,guarantee that you can receive the goods at the fastest speed in your own country.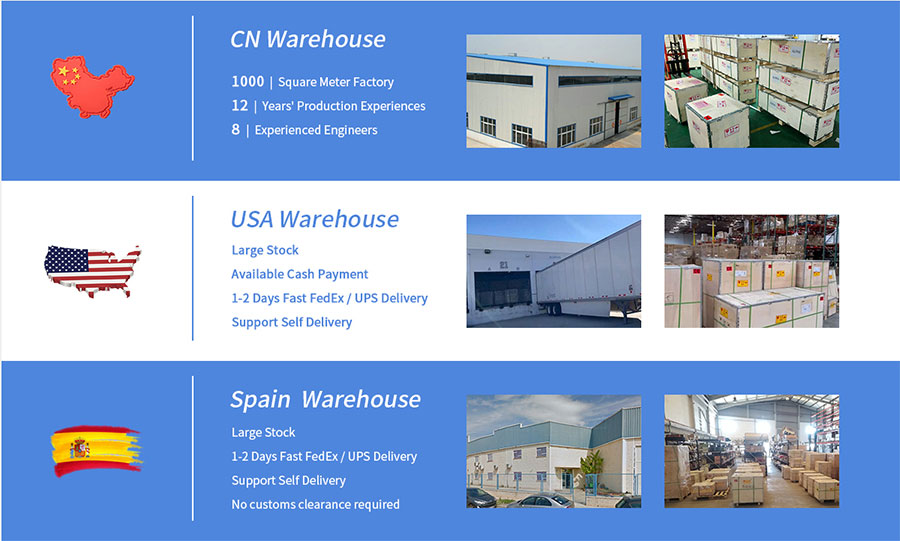 Why choose us?
1)Microwave chemical reactors now in stock with fast delivery.
2) With 13 years of experience in R&D and production of microwave chemical reactors.
3) provide you with premium quality products and perfect after-sales service.
4) Premium quality with CE certification.
5) Factory direct sales with competitive price.
6) Provide one-stop Extraction Turnkey Solution.

Parameter
| | | |
| --- | --- | --- |
| Model | WBFY-201 | WBFY-205 |
| Rated power consumption(W) | 1100 | 1100 |
| Rated maximum output power(W) | 750 | 650 |
| Maximum input current(A) | 7.8 | 7.8 |
| Operating voltage(V) | 220 | 220 |
| Frequency(Mhz) | 2450±50 | Adjustable size |
| Chamber size(mm) | 290*295*190 | 290*295*190 |
| Overall size (mm) | 480*340*280 | 480*340*380 |
| | | |
| --- | --- | --- |
| Model | WBFY-201 | WBFY-205 |
| Rated power consumption(W) | 1100 | 1100 |
| Rated maximum output power(W) | 750 | 650 |
| Maximum input current(A) | 7.8 | 7.8 |
| Operating voltage(V) | 220 | 220 |
| Frequency(Mhz) | 2450±50 | Adjustable size |
| Chamber size(mm) | 290*295*190 | 290*295*190 |
| Overall size (mm) | 480*340*280 | 480*340*380 |