Rotary evaporator is suitable for continuous or discontinuous distillation and extraction under normal pressure or vacuum conditions, especially suitable for concentration, crystallization, separation and recovery of heat-sensitive materials. It is an essential basic instrument for chemical, pharmaceutical, universities, scientific research laboratories and other units.
ZZKD provides you with models ranging from 2L to 50L, and recommends our hot-selling models below for you.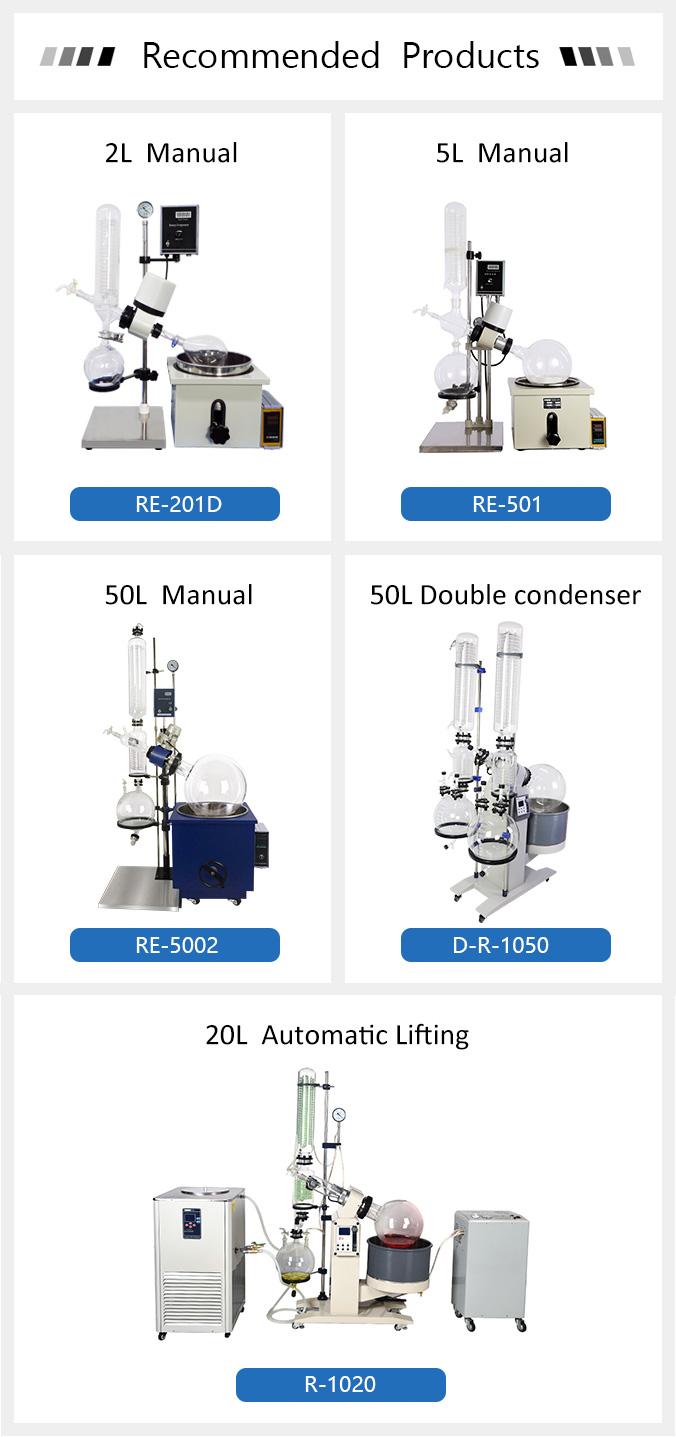 Rotary evaporator with vacuum pump and cooling chiller

The rotary evaporator needs to be equipped with a cooling chiller and a circulating water vacuum pump.The supporting equipment for rotary evaporators of different capacities is also different. If you are using 2L and 5L rotary evaporators, you should be equipped with a desktop circulating water vacuum pump and a small cooling chiller. If you are using a 10L, 20L, 50L rotary evaporators, it should be equipped with a vertical circulating water vacuum pump and a large cooling chiller.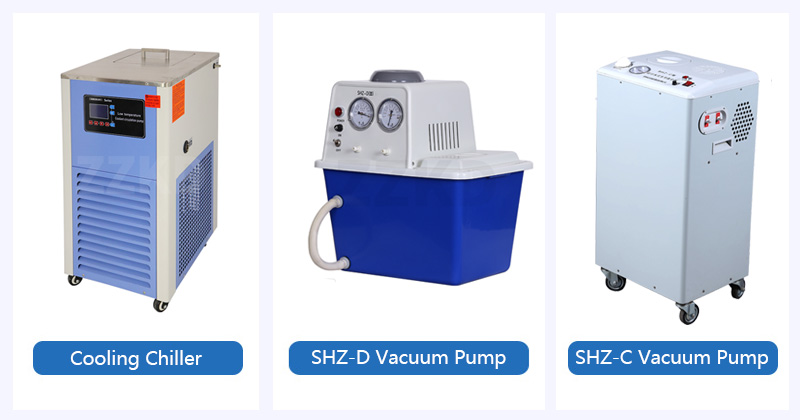 Application of rotary evaporator:
Rotary evaporators are mainly used in concentration, crystallization, drying, separation and solvent recovery in the pharmaceutical, chemical and biopharmaceutical industries.

Features of our rotary evaporator:
1. Internationally advanced EL airtight system to maintain a high vacuum, gas-liquid separator, no backflow.
2. The structure is reasonable, the materials are exquisite, and the mechanical parts are made of stainless steel and aluminum alloy die-casting.
3. Double-layer condenser, the recovery rate is more than 95%.
4. Glass parts are made of corrosion-resistant, high-temperature resistant, borosilicate glass.
5. Evaporating flask is easy to install and set up.
6. The rubber parts use new standard materials, which are convenient for users to replace.
7. Feed valve can realize non-stop feeding.
8. Built-in transmission system, frequency conversion speed control, constant speed and reliable.
9. The water bath adopts an intelligent PID temperature controller, which can be lifted and down.
10. Explosion-proof system is optional; 110V/60Hz can be customized.
Warehouse in USA | Canada | Spain | Thailand
We have warehouses in the United States (Los Angeles), Canada (Vancouver), Spain (Valencia), Thailand (Bangkok), and have a large inventory,no matter which country you are in, you are guaranteed to receive the goods as quickly as possible.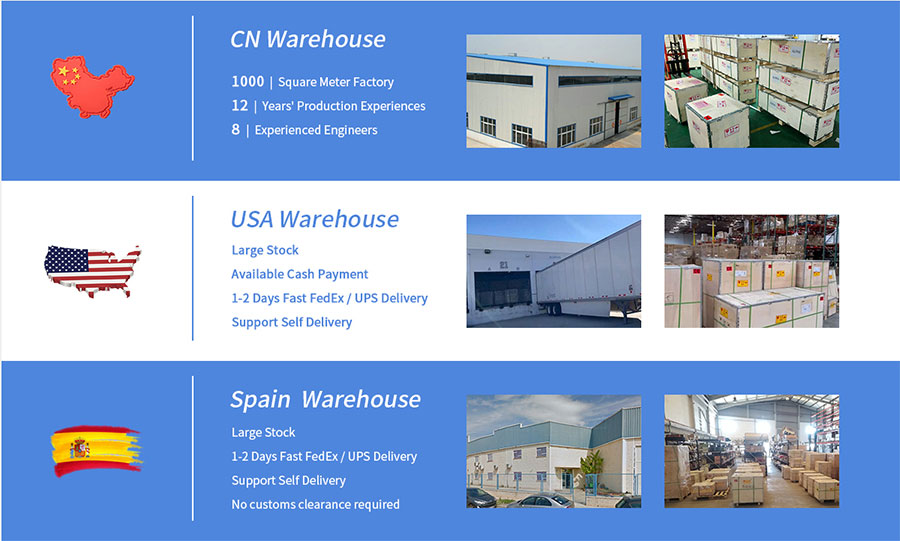 Why choose us?
1)Rotary evaporators now in stock with fast delivery.
2) With 13 years of experience in R&D and production of rotary evaporators.
3) provide you with premium quality products and perfect after-sales service.
4) Premium quality with CE certification.
5) Factory direct sales with competitive price.
6) Provide one-stop Extraction Turnkey Solution.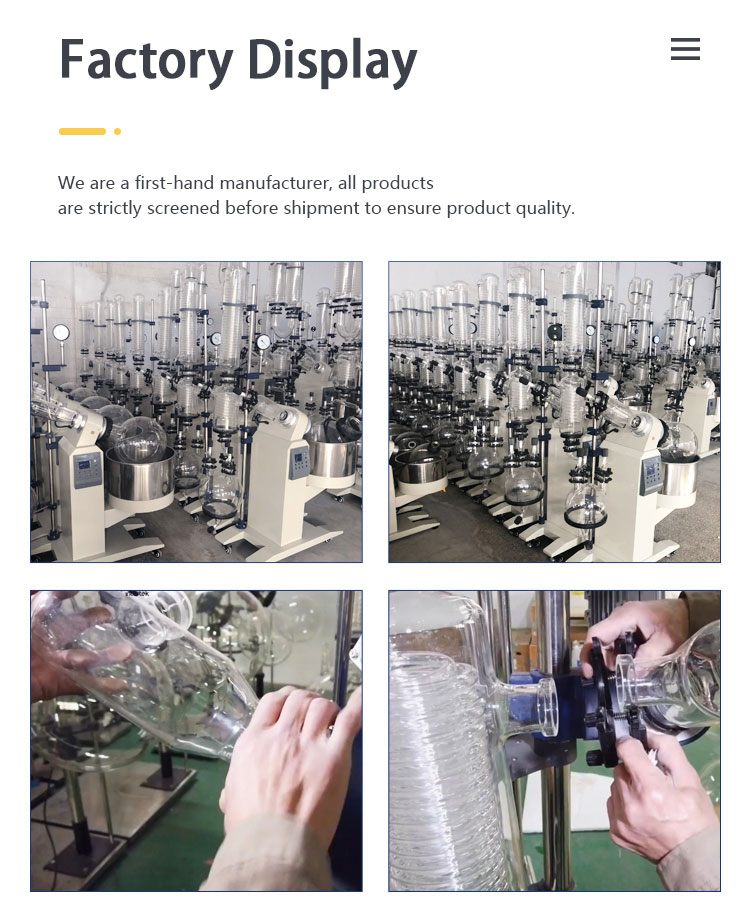 Parameter
| | | | | | | |
| --- | --- | --- | --- | --- | --- | --- |
| Model | Rotating Motor(W) | Water(Oil) Bath Power(W) | Temperature Control Range | Evaporation Rate(H2O) | Voltage | Lifing Height(mm) |
| RE-2000B | 40 | 1500 | RT~99℃ | ≥1L/h | 220V/50HZ | 0~140 |
| RE-5299 | 30 | 1500 | RT~99℃ | ≥1L/h | 220V/50HZ | 0~150 |
| RE-201D | 40 | 1200 | RT~399℃ | ≥1L/h | 220V/50HZ | 0~150 |
| RE-301 | 40 | 1500 | RT~399℃ | ≥1.5L/h | 220V/50HZ | 0~120 |
| RE-501 | 40 | 1500 | RT~399℃ | ≥1.5L/h | 220V/50HZ | 0~120 |
| RE-1002 | 180 | 3000 | RT~99(250)℃ | >3L/h | 220V/50HZ | 0~220 |
| RE-2002 | 180 | 5000 | RT~99(250)℃ | >5L/h | 220V/50HZ | 0~220 |
| RE-5002 | 250 | 7000/9000 | RT~99(250)℃ | >9L/h | 380V/50HZ | 0~220 |
| RE-2000B | 40 | 1500 | RT-99 Temperature control accuracy ±1℃ | ≥1 | 220V 50/60HZ | 0-140 |
| EXRE-1002 | 180 | 3000 | 0-99(250) | >3 | 220V 50/60HZ | / |
| EXRE-2002 | 180 | 5000 | 0-99(250) | >5 | 220V 50/60HZ | / |
| EXRE-5002 | 370 | 7000/9000 | 0-99(250) | >9 | 380V/50HZ | / |
| | | | |
| --- | --- | --- | --- |
| Model | Rotating Motor(W) | Water(Oil) Bath Power(W) | Temperature Control Range |
| RE-2000B | 40 | 1500 | RT~99℃ |
| RE-5299 | 30 | 1500 | RT~99℃ |
| RE-201D | 40 | 1200 | RT~399℃ |
| RE-301 | 40 | 1500 | RT~399℃ |
| RE-501 | 40 | 1500 | RT~399℃ |
| RE-1002 | 180 | 3000 | RT~99(250)℃ |
| RE-2002 | 180 | 5000 | RT~99(250)℃ |
| RE-5002 | 250 | 7000/9000 | RT~99(250)℃ |
| RE-2000B | 40 | 1500 | RT-99 Temperature control accuracy ±1℃ |
| EXRE-1002 | 180 | 3000 | 0-99(250) |
| EXRE-2002 | 180 | 5000 | 0-99(250) |
| EXRE-5002 | 370 | 7000/9000 | 0-99(250) |