ZP series rotary tablet press machine is an automatic rotary continuous tableting machine, which compresses granular raw materials into tablets, which can be widely used in various specifications of round and special-shaped tablets in chemical, food, electronics and other departments.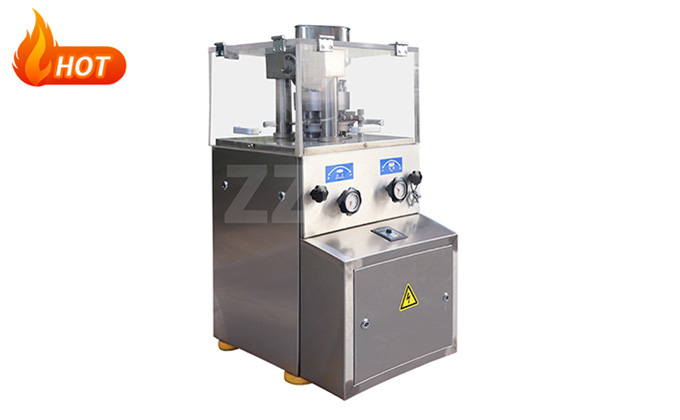 Features of ZP Series Rotary Tablet Press Machine
1. The outer cover is fully enclosed, the material is stainless steel, and the inner table is made of stainless steel, which can keep the surface gloss and prevent cross-contamination, and comply with GMP.
2. The mechanical operation can be clearly seen with the transparent protective cover. And can be fully opened for easy cleaning and maintenance.
3. The speed is stepless speed regulation, which can be adjusted arbitrarily.
4. Realize mechatronics, using touch keys and display (speed, output, fault) and other display
5. The transmission system is sealed in the oil tank under the main body of the machine. It is an independent component that is safely separated and will not contaminate each other. It also makes the transmission shaft infiltrate the oil pool, which is fully lubricated, and the noise and wear are reduced.
6. The mechanical dust collector can absorb the dust in the pressing room.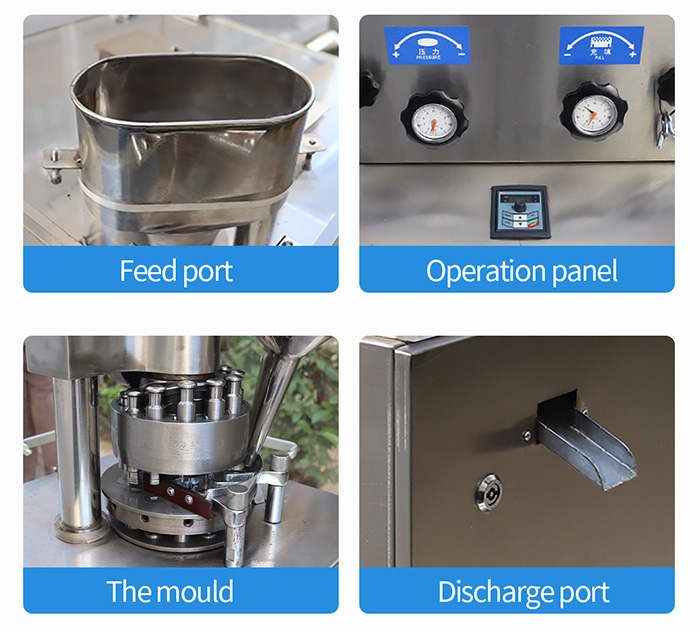 Here are some applications of rotary tablet press machine
Pharmaceutical tablets: These machines are widely used to produce tablets for a variety of pharmaceutical products, including over-the-counter drugs, prescription medications, and vitamins and supplements.
Nutraceuticals: Rotary tablet presses are used to manufacture tablets for nutraceuticals, which are products made from natural ingredients and marketed for their health benefits.
Confectionery: Rotary tablet presses are used to manufacture tablets for candy and other confectionery products.
Industrial tablets: These machines are also used to manufacture tablets for industrial applications, such as cleaning products, fertilizers, and animal feed.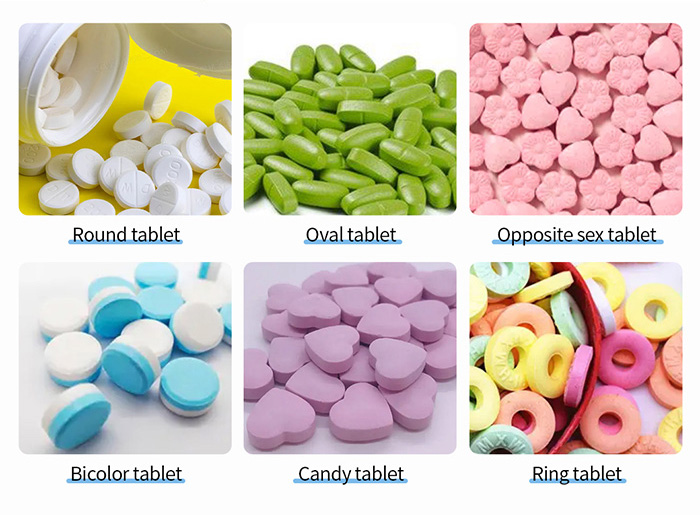 Parameter
| | | | |
| --- | --- | --- | --- |
| Model | ZP-5A | ZP-7A | ZP-9A |
| Punch quantity (Sets) | 5 | 7 | 9 |
| Max.tablet pressure (kn) | 40 | 60 | 60 |
| Max.tablet diameter (mm) | 20 | 20 | 20 |
| Max.filling depth (mm) | 15 | 15 | 15 |
| Max.tablet thickness (mm) | 6 | 6 | 6 |
| Turret rotary speed (r/min) | 30 | 30 | 30 |
| Production capacity (PC/h) | 9000 | 12600 | 16200 |
| Motor power (kw) | 1.5 | 1.5 | 1.5 |
| Overall size (mm) | 400×580×1000 | 400×580×1000 | 400×580×1000 |
| Machine weight (kg) | 190 | 190 | 190 |
Model

ZP-13A

ZP-15A

ZP-17A

ZP-19A

ZP-21A

Punch quantity

(Sets)

13

15

17

19

21

Max.tablet pressure

(kn)

150

150

120

120

80

Max.tablet diameter (mm)

50

45

40

30

30

Max.filling depth

(mm)

18-25

18-25

18-25

18-25

18

Max.tablet thickness (mm)

8-15

8-15

8-15

8-15

9

Turret rotary speed (r/min)

10-25

10-25

10-25

10-25

10-36

Upper punch length (mm)

175

175

175

175

175

Lower punch length (mm)

180

180

180

180

185

Output (Pcs/h)

7800-19500

9000-23000

10200-25500

11400-28500

45000

Motor power (kw)

7.5










Overall size (mm)

900×800×1640










Machine weight (kg)

1500

1500

1500

1500

1500
| | | | |
| --- | --- | --- | --- |
| Model | ZP-5A | ZP-7A | ZP-9A |
| Punch quantity (Sets) | 5 | 7 | 9 |
| Max.tablet pressure (kn) | 40 | 60 | 60 |
| Max.tablet diameter (mm) | 20 | 20 | 20 |
| Max.filling depth (mm) | 15 | 15 | 15 |
| Max.tablet thickness (mm) | 6 | 6 | 6 |
| Turret rotary speed (r/min) | 30 | 30 | 30 |
| Production capacity (PC/h) | 9000 | 12600 | 16200 |
| Motor power (kw) | 1.5 | 1.5 | 1.5 |
| Overall size (mm) | 400×580×1000 | 400×580×1000 | 400×580×1000 |
| Machine weight (kg) | 190 | 190 | 190 |