Short path distillation kit is a set of laboratory equipment used for separating and purifying compounds with different boiling points, particularly in small-scale production.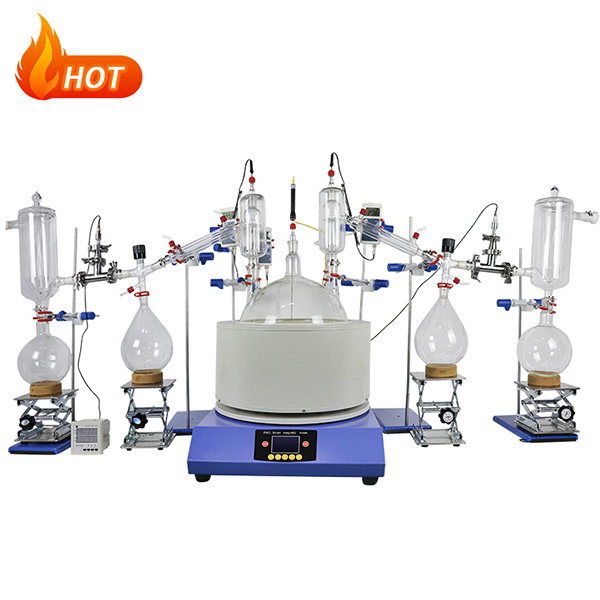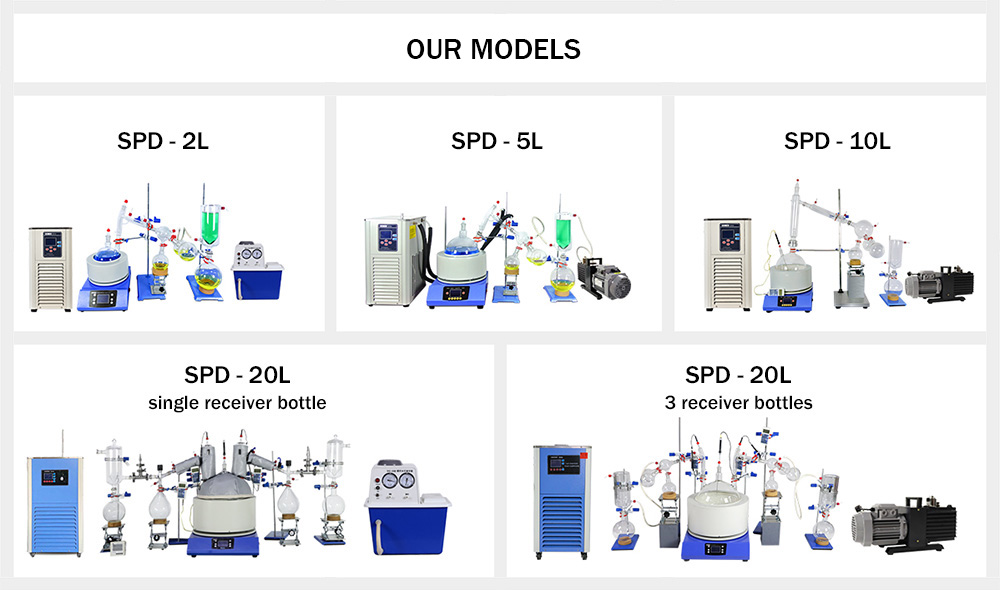 The supporting equipment of the short path distillation unit includes: vacuum pump, low temperature coolant circulating pump. There are three types of vacuum pumps, you can choose one.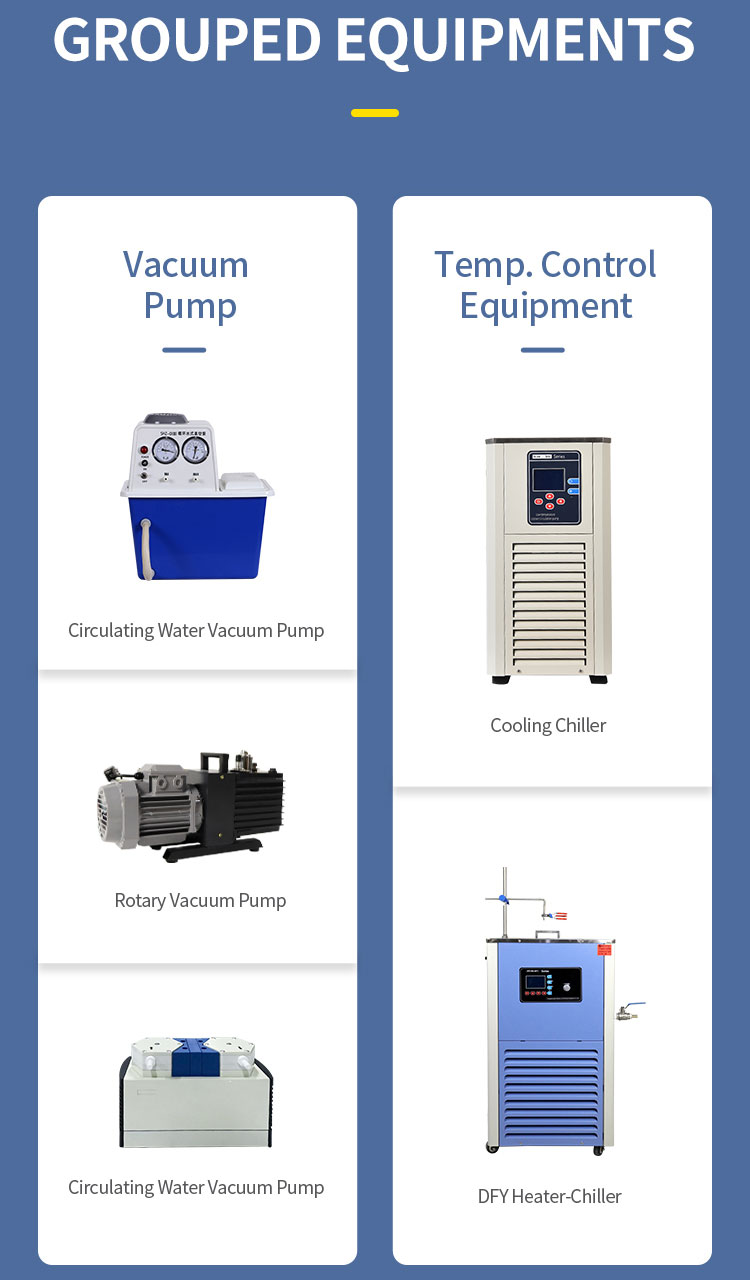 Features of Short path distillation kit
1) The product is made of high-quality borosilicate glass.
2) The evaporating cylinder is integrally processed without an intermediate flange connection.
3) The surface finish of the cylinder is high, and it is not easy to stick.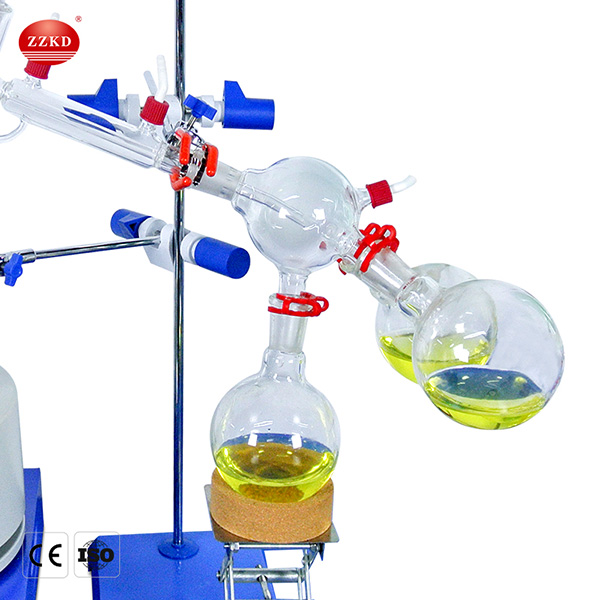 4) All metal parts are made of 304 stainless steel with good chemical resistance.
5) Is a physical separation process that keeps the material in its natural state without contamination.
6) The heating time of the short-path distillation kit is very short, and it can be completed in tens of seconds. It is low-carbon and environmentally friendly and helps maintain material activity.
7) High quality and heavy-duty borosilicate 3.3 glass, durable.
8) Vacuum jacketed distillation adapter with 4 Vigreux stages.
9) 10L heating jacket with magnetic stirring function, 110V/220V optional.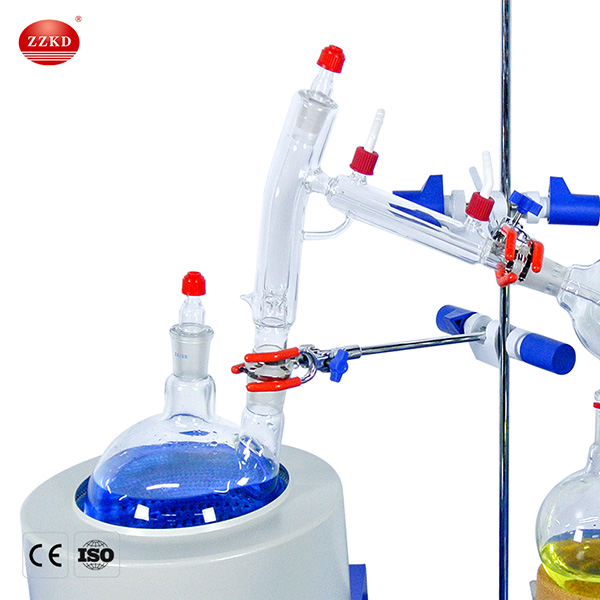 10) Removable plastic 3/8" (10mm) hose for maximum operational safety.
11) Holds 3 500mL flasks.
12) The TGCT-01 cold trap protects the vacuum pump from steam contamination and damage.
13) Flexible choice of vacuum pump and heater/cooler.

Short path distillation kit application?
Short path distillation kits are used for:

1) Separating components in a mixture with different boiling points.
2) Purifying compounds.
3) Concentrating substances.
4) Removing impurities or undesired components from a mixture.
5) Reclaiming solvents.
6) Production of essential oils, fragrances, and flavorings.
7) Pharmaceutical and nutraceutical industry for production of high purity compounds.
8) Chemical industry for obtaining purified compounds from crude mixtures.
Warehouse in USA | Canada | Spain | Thailand
We have warehouses in the United States (Los Angeles), Canada (Vancouver), Spain (Valencia), Thailand (Bangkok), and have a large inventory,no matter which country you are in, you are guaranteed to receive the goods as quickly as possible.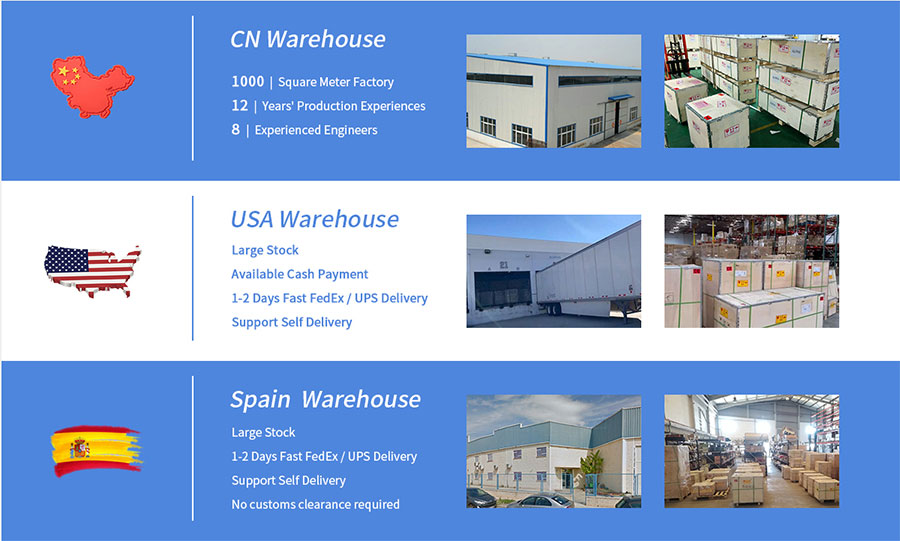 Why choose us?
1)Short path distillation kits now in stock with fast delivery.
2) With 13 years of experience in R&D and production of short path distillation unit.
3) provide you with premium quality products and perfect after-sales service.
4) Premium quality with CE certification.
5) Factory direct sales with competitive price.
6) Provide one-stop Extraction Turnkey Solution.

Parameter
| | | | |
| --- | --- | --- | --- |
| SPD-2L | SPD-5L | SPD-10L | SPD-20L |
| 2000 ml Digital Heating Mantle x1 | 5000 ml Digital Heating Mantle x1 | 10000 ml Digital Heating Mantle x1 | 20000 ml Digital Heating Mantle x1 |
| 2000 ml 2 Neck Boiling Flask x1 | 5000 ml 2 Neck Boiling Flask x1 | 10000 ml 2 Neck Boiling Flask x1 | 20000 ml 2 Neck Boiling Flask x1 |
| Short Path Distillation Head x1 | Short Path Distillation Head x1 | Short Path Distillation Head x1 | Short Path Distillation Head x1 |
| Cow Receiver x1 | Cow Receiver x1 | Cow Receiver x1 | Cow Receiver x1 |
| 500 ml Round Bottom Flasks x3 | 1000 ml Round Bottom Flasks x3 | 2000 ml Round Bottom Flasks x3 | 3000 ml Round Bottom Flasks x3 |
| Plastic Keck Clips x7 | Plastic Keck Clips x7 | Plastic Keck Clips x7 | Plastic Keck Clips x7 |
| Cast Iron Stand x1 | Cast Iron Stand x1 | Cast Iron Stand x1 | Cast Iron Stand x1 |
| Metal Three Finger Clamp x1 | Metal Three Finger Clamp x1 | Metal Three Finger Clamp x1 | Metal Three Finger Clamp x1 |
| | | | |
| --- | --- | --- | --- |
| SPD-2L | SPD-5L | SPD-10L | SPD-20L |
| 2000 ml Digital Heating Mantle x1 | 5000 ml Digital Heating Mantle x1 | 10000 ml Digital Heating Mantle x1 | 20000 ml Digital Heating Mantle x1 |
| 2000 ml 2 Neck Boiling Flask x1 | 5000 ml 2 Neck Boiling Flask x1 | 10000 ml 2 Neck Boiling Flask x1 | 20000 ml 2 Neck Boiling Flask x1 |
| Short Path Distillation Head x1 | Short Path Distillation Head x1 | Short Path Distillation Head x1 | Short Path Distillation Head x1 |
| Cow Receiver x1 | Cow Receiver x1 | Cow Receiver x1 | Cow Receiver x1 |
| 500 ml Round Bottom Flasks x3 | 1000 ml Round Bottom Flasks x3 | 2000 ml Round Bottom Flasks x3 | 3000 ml Round Bottom Flasks x3 |
| Plastic Keck Clips x7 | Plastic Keck Clips x7 | Plastic Keck Clips x7 | Plastic Keck Clips x7 |
| Cast Iron Stand x1 | Cast Iron Stand x1 | Cast Iron Stand x1 | Cast Iron Stand x1 |
| Metal Three Finger Clamp x1 | Metal Three Finger Clamp x1 | Metal Three Finger Clamp x1 | Metal Three Finger Clamp x1 |